No. 7: The Vindicator sports staff loses Kovach, Housteau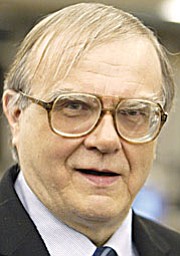 Photo
Two popular and respected members of The Vindicator sports staff were lost during 2010.
John Kovach and Chuck Housteau, who shared a love of high school and Youngstown State sports especially, both died from heart attacks this year.
John passed away in late March. He was well-known for being a standout football player at Campbell Memorial High School, and later at Youngstown University.
John organized several amateur sports leagues in the Valley, including a flag football league for many years.
He was also the driving force to bring a series of high school basketball nights to the Covelli Centre.
John wrote about many sports, but he especially enjoyed boxing and following high school standouts who were away at college.
Chuck was a Vindicator sports correspondent for many years.
He especially enjoyed the chance to cover high school football, his true passion, after playing for Woodrow Wilson High School.
Chuck also loved the Youngstown State Penguins and helped cover the football team for The Vindicator.
He never turned down a chance to take an assignment, unless he had a family obligation.
John and Chuck may be replaced but they will never be forgotten.