No. 6: YSU women go winless
New YSU Womens Coach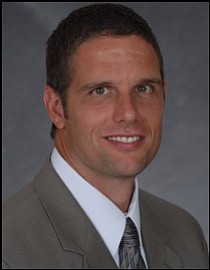 Video
Bob Boldon, a standout player at Louisville High and NAIA Walsh University in the mid-1990s, was hired to jump-start a Penguins program coming off the two worst seasons in school history.
To say the 2009-2010 season for the Youngstown State women's basketball was rough would be the understatement of the decade.
The Penguins posted an 0-30 campaign en route to the first winless season in school history.
Marred by injury and academic issues, the Penguins often field only six or seven players a game. The disappointing season led to then-head coach Cindy Martin abruptly resigning from her position in March. She had just three wins in two years with the team.
The Penguins didn't wait long to hire Martin's successor. Former Louisville High and Walsh University point guard Bob Boldon was named the sixth coach in team history on April 14. He had spent the previous season as the top assistant coach at Florida Gulf Coast University.
Boldon said at the time it was "a dream come true" to be accepted for a Division I coaching position, especially one so close to home.
YSU athletic director said the school was taken by surprise with Martin's decision. But he added the program was also in good hands with her replacement.
"When we make a commitment to a coach, we want to stand beside him or her and make sure we see it through," Strollo said at the April press conference. "Coach Martin made a decision, and we moved quickly to move ahead and find a coach. And to find someone of his caliber is something we're excited about."
Boldon brought an aggressive approach and a no-nonsense attitude with him from the Gulf coast. He and the Penguins earned their first two wins in as many years in his first month in charge.