Strickland: Kasich should keep some of my initiatives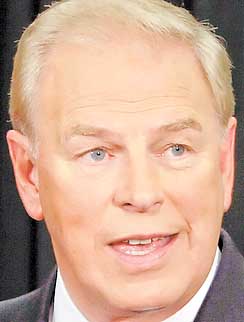 Photo
Ohio Democratic Gov. Ted Strickland
By Marc Kovac
COLUMBUS
Outgoing Gov. Ted Strickland remains hopeful that Ohio will "stay on track," with the incoming administration of Republican Gov.-elect John Kasich by leaving a few of his initiatives in place.
"I am absolutely convinced that Ohio is well positioned for economic growth," he told the Statehouse Bureau of Dix Newspapers and The Vindicator. "I think that's reflected in the fact that we're one of only two states that have seen eight straight months of continuous decline in the unemployment rate — 21 states had increased unemployment last month; we went down for the eighth straight month. I think we're primed for growth."
He added, "I think our Department of Development has done a wonderful job. I hope that we'll stay focused. I also think that the economy remains fragile, and I have some concern at both the federal and state level that there will be such efforts to reduce investments and to cut back on spending that it could push us toward a double-dip recession."
Q. You worked on education reform, passenger rail service and other plans that Gov.-elect John Kasich has said he does not support. Which of your administration's initiatives do you think will survive the new administration?
A It does seem as if anything that was my idea is considered fair game for elimination by the incoming administration. I don't fully understand that kind of motive. But the fact is that we've already given to California and Florida $400 million that should have been right here in Ohio creating jobs, building our rail infrastructure, improving our freight system and establishing passenger rail service, making it much more likely that Ohio would actually be a state where rail cars were built and manufactured. Four hundred million dollars is a lot of money. It was something that I fought for, and it was a sad day when California and Florida were able to rejoice in getting our money. That was sad.
Now, I think the energy bill that we passed will probably remain. Our renewable and advanced energy portfolio I think is likely to be kept in place. I certainly hope so, because I think if that were to be altered, it would be tragic for the state. Our education reforms I hope are salvaged. I know there's been a lot of talk about eliminating the evidence-based model. That may be easier said than done. I think the fact that we created the University System of Ohio and tried to bring collaboration and cooperation among our community colleges and branch campuses and major campuses, I hope that remains in place. Our emphasis on a comprehensive transportation system, not only focusing on roads and bridges but focusing on ports, water ports and airports, as well as intermodal facilities and urban transit activities, I think that's a good thing. I hope that remains a part of the new administration's planning, but I don't know for sure."
Q When you took office, you released the r sum s of all of the people who applied for jobs in your administration. Was that a difficult decision?
A No, it was not, because I felt like it was consistent with what I was obligated to do by the law. And my obligation as governor is to do everything I can to try to be compliant with the law. So we didn't look for gimmicks and tricks that would enable us to violate the spirit of the law. So, no, it was not difficult.
Q Do you think Ohio gets lesser-quality applicants for government jobs because people are afraid their names will get out there in the public realm?
A No. I always find it a little humorous that some people who have a high opinion of themselves would consider that there should be rules for them that don't apply to everyone else. If you want to serve in a public position, then you ought to be able to be candid and open about your desire to do that, your experiences, your background, what skills or talents you might bring to that position. And quite frankly, I have never felt like those who work in the public sector are lesser qualified or have fewer skills than the people who work in the private sector. The fact is that state government is a big business, billions of dollars are dealt with and major decisions are made which affect the life and safety and well being in Ohio of about 11.4 million people. I've never referred to those who worked for the public as bureaucrats and that kind of mocking way. I consider them to be public servants. Most of them do a wonderful job. Occasionally, just as there is in the private sector, there are incompetent individuals or unethical persons. But by and large I think those who serve the public as public employees do a wonderful job.