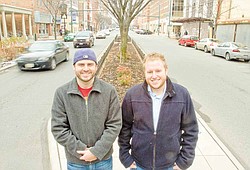 The Vindicator (Youngstown)

Photo
Cars pass by as Be My Designated Driver co-founders Mac Chrystal and Brian DiBacco stand outside of the Lemon Grove on Friday afternoon.
Valley business works with bars, uses designated drivers to deliver drinkers
By Grace Wyler
YOUNGSTOWN
Tis the season for coming together with family and old friends to celebrate generosity and a new year. But local law-enforcement officials warn that all of the holiday revelry — the parties, the shopping, the travel — can too often result in unfortunate and tragic accidents.
"It's definitely that time of year that people go out and, maybe for the first time, have a little too much and go ahead and drive anyway," said Lt. Ronald Deamicis of the Austintown Police Department "There are more opportunities so there are lots of rookies."
Deamicis points to some alarming statistics. Of the state's 1,022 traffic fatalities last year, 390 were the result of alcohol-related crashes, according to the Ohio Department of Transportation. Thirty-four of those alcohol-related traffic deaths occurred on holiday weekends, including seven on New Year's Eve, three on Christmas Eve and 10 on Thanksgiving.
Deamicis warned party-goers not to drive while intoxicated.
"If you know you are going to a party and you know you are going to drink, don't drive," he said. "Consider the safety of others; that's the most important thing — don't be afraid to ask someone to drive you home."
Brett Smith, a 23-year-old Canfield native, has been proactive about avoiding any potential problems since he returned home from Chicago this holiday season.
Smith has hired a company new to the Youngstown area, Be My Designated Driver, to drive him and some of his friends out to local bars and restaurants, to ensure that everyone has a safe ride home.
"It was just a safe way for me and my friends to get around and have a good time," Smith said. "I absolutely think it meets a need."
The company was started by Smith's former classmates from Miami University of Ohio, Youngstown natives Brian DiBacco and Mac Chrystal. The two Cardinal Mooney alums, along with Cleveland natives Arthur Simanvsky and Alexa Milkovich, launched BeMyDD in Cleveland this past St. Patrick's Day. The company now offers its services in 10 cities across the Midwest, and started serving Youngstown customers in early November. Arrangements are through the web site www.bemydd.com.
For $12.50 an hour, customers can reserve a BeMyDD driver to pick them up, take them to their destination and then drive them home. Although the service is used primarily for nights out, BeMyDD also accepts requests from customers looking to be driven to and from business meetings and medical appointments.
The site also offers a pick-up service for customers unable to drive themselves home. BeMyDD will dispatch drivers to take the customer and his or her vehicle home for $25, plus a mileage fee.
Users pay a $25 yearly subscription fee for the service.
An average BeMyDD user spends about $65 a night, Chrystal said.
Overall, the company has hired more than 400 drivers, including about 15 in the Youngstown area.
"Obviously we saw the need to limit drunk driving, as well as the need to provide jobs," DiBacco said. "Our drivers use the clients' cars, which puts them in a more comfortable situation — our motto is: 'We drive your car so you don't have to.'"
But though the service is altruistic, the spirit behind the company is definitely entrepreneurial.
In each city, there are other local companies that offer designated driving services. But the young entrepreneurs behind Be My DD think their business model has global potential.
Most recently, the company expanded into Chicago, its first major metropolitan market, and drivers are waiting to be interviewed for a future expansion in Washington, D.C., Baltimore and Annapolis, Md.
Drivers are subcontracted by BeMyDD, and most are over 25, DiBacco said. They all must have a clean driving record and no DUIs within the last year, DiBacco said. BeMyDD executives interview each driver in person and run extensive background checks.
"Our model works anywhere," Chrystal added. "We have qualified drivers applying constantly."
BeMyDD has been working with bars and restaurants to get the word out about the service and look into joint advertising campaigns. The company promotes bars on its website and has asked bars to help promote the site.
The company is also in talks with alcohol distributors to promote BeMyDD as a way for the liquor companies to increase their social responsibility.
"They have to spend a certain amount of money on social responsibility, so every alcohol company wants to be part of this," DiBacco said, adding that those partnerships are still in their infancy.
For now, BeMyDD is expanding without any outside capital investment. According to Chrystal, the company's owners have earned back their individual investments and BeMyDD has started to turn a profit.
"The business is really paying for itself," he said. "We weren't looking for any investment, but we also didn't expect it to sustain itself this quickly."
"As the word gets out, demand goes up every week," DiBacco added. "Every week has been a record week."
DiBacco and Chrystal break into grins at the mention of the holiday season, BeMyDD's first since its launch. Business partnerships with bars and alcohol dealers have grown over the holidays, as bar owners and distributors offer free rides and use BeMyDD in holiday marketing campaigns, DiBacco said.
Although BeMyDD has plans to set up a call service center in Cincinnati, the two are content working out of their parents' homes in Youngstown for now.
"We both came from family businesses, and that's sort of how we were able to do this," Chrystal said.
"We learned a lot from our parents."