Browns players say they support Mangini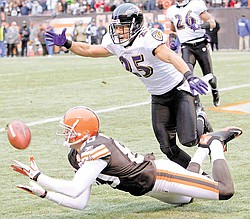 ASSOCIATED PRESS

Photo
Cleveland Browns wide receiver Brian Robiskie, bottom, catches a 29-yard touchdown pass against Baltimore Ravens cornerback Chris Carr (25) in the first quarter of an NFL football game Sunday, Dec. 26, 2010, in Cleveland. The scoring pass was thrown by wide receiver Mohamed Massaquoi.
GAME TIME
Matchup: Cleveland Browns (5-10) vs.Pittsburgh Steelers (11-4)
When: Sunday; kickoff at 1 p.m.
Where: Cleveland Browns Stadium
TV/radio: CBS channels 27 & 19; WKBN-AM 570 and WNCD-FM 93.3
Associated Press
BEREA
His destiny's unknown and in team president Mike Holmgren's hands. Eric Mangini could be down to his final days with the Browns.
He hopes his time in Cleveland isn't over.
But if this is indeed the end, Mangini's last week began with two players stepping forward to say they hope he returns for a third season.
"I have the utmost respect for him," cornerback Sheldon Brown said. "I can't say anything negative about him. You may find someone else, but I can't. He's treated me like a man from day one."
Fullback Lawrence Vickers, one of the NFL's most devastating blockers, cleared a path for his coach.
"I love Mangini," Vickers said. "He's a good guy, so I want him back. If not, I can't do nothing about it. Like he tells us, life goes on."
The comments were the most positive and public spoken by any Cleveland players this season in support of Mangini, whose record dropped to 10-21 with the Browns (5-10) following Sunday's home loss to Baltimore. To this point, many of the Browns had either sidestepped questions about Mangini by saying "it isn't my decision" or they were focused on the game ahead.
Cleveland's season, which peaked with a Nov. 7 upset of New England, has been in steady decline. The Browns are just 2-5 since then, with losses at Buffalo and Cincinnati — both two-win teams at the time — providing the necessary ammo for Holmgren or any Mangini bashers to pass judgment.
Holmgren hasn't spoken to the media since Nov. 2, when he said he would wait until after the season before making any decision on Mangini.
Brown, acquired in an offseason trade, played for Andy Reid in Philadelphia. He believes Mangini has the qualities to take the Browns to a higher level.
"He has all the intangibles," he said. "He learned from one of the best [Bill Belichick]. Obviously he knows the plan. For us, it's just going out and executing the plan. It's not his fault when we give up touchdown passes. It's not his fault when we throw interceptions. It's not his fault when we fumble. The players control that."
Mangini was grateful to learn that two of his players spoke highly of him.
One of the goals he has met since taking over the Browns has been filling his roster with high-character people who value team success over individual triumph.
The Browns have bonded.
"There's a sense of community in this team and sense of purpose that doesn't happen by accident," he said. "We all want to win every week. There's tremendous respect for each other. That's going to continue to be here and it's going to continue to propel us forward."
The Browns will end the season against the Steelers (11-4), who will come to Cleveland on Sunday looking to win the AFC North. It's one more chance for Mangini to show Holmgren how much his team has improved in Year 2.