HAPPY 100TH BIRTHDAY| M. Louise Tucker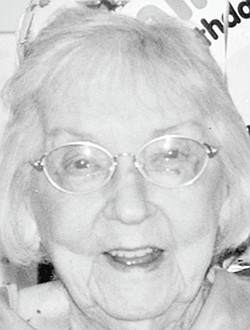 Photo
THE HONOREE
Date of birth: Nov. 11, 1910.
Place of birth: Youngstown.
FAMILY
Parents: Joseph A. and Nellie Mae Kreiler.
Siblings: Stanley, Robert, Christopher and Betty Moses, all deceased. Sadie Thomas of Sharpsville.
Spouse: R.E. Tucker, married May 2, 1935, in Himrod Baptist Church, Youngstown. They moved to Tyler, Texas, Dec. 15, 1945. He died: Jan. 4, 1962.
Children: Son, David L. Tucker, died in 1989. One granddaughter, Cindy Lou, whom she hopes to find. Hasn't seen her since the girl was 3 years old, and she would be 26 now.
BACKGROUND
Education: Graduated from East High School in 1929.
Employment: East Texas Medical Hospital for 24 years.
Church Membership: First Baptist Church in Texas.
MEMORIES
Grew up: On Byron Street in Youngstown. She says she has "marvelous memories" of Lincoln Park and Council Rock, as well as Mill Creek Park in Youngstown.
Lou, as she likes to be called, said of Youngstown: "You never forget where you were born and raised." She said she watches for any mention of Youngstown on the national news and always roots for Youngstown and the residents here to do well.
The centenarian said she feels as though she has lived two different lives. The early half was when life was more simple and uncomplicated — and she remembers riding in a car for the first time. The second half is the one dominated by many electrical innovations.