Turning up the heat: Wildcats defense smothers Quakers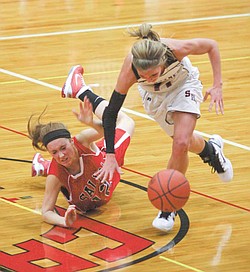 Special to the Vindicator

Photo
(11) Katelyn Ardale of Struthers and (12) Peyton Meals get tangled up going for the ball during their game Monday night in Struthers.
By Pete Mollica
STRUTHERS
Struthers High girls basketball coach John Grandy knows that to be a good basketball team you have to play good defense — and Grandy likes the way his Lady Wildcats are playing defense right now.
Struthers (4-2) held Salem to just nine total points in the second half and forced 27 turnovers as the Wildcats posted a 52-30 win Monday night.
"Good teams play good defense and right now we are playing very good defense," said Grandy. "We were very aggressive and forced a lot of mistakes and the thing that I like most is that we are getting better with each game.
"Salem has always had a good program, but this year they are young and inexperienced," Grandy added. "We like to think that we have a pretty good program here also."
Salem (1-5) under first-year head coach Renee Farina is struggling early in the season.
"We only have 15 players in the program right now and that includes freshmen though seniors," Farina said. "We had to cancel our freshmen program this year.
"Our players are young and inexperienced and we are just making way too many unforced errors out there and those are things you can't do, especially against a very good team like Struthers," she added.
While the Quakers were struggling the Wildcats burned the nets, especially from 3-point range where they connected on 9-of-22 attempts led by senior Katelyn Ardale, who connected on four long-range shots, and senior Marissa Hird, who hit on three from behind the arc. Hird led the Wildcats with 13 points, while Ardale added 12 and senior Amanda Ditman finished with 11.
Salem didn't have a player in double figures and were led by senior Andrea Seguin and senior Peyton Meals with seven points each. The Quakers had only eight field goals on the night.
"We got a lot of young players who are being thrown into the action with little experience and they are going to make mistakes," Farina added. "The season is still young, but so are we and we've got to get a lot better and quickly."
Even despite the turnovers and the lack of scoring the Quakers managed to hang with the Wildcats through most of the first half.
While Struthers made fire first quarter baskets, three of them 3-pointers, Salem stayed in the game from the foul line where they hit on five of six from the line. The Wildcats didn't take the lead until the final minute of the opening quarter when Ardale canned a 3-pointer for a 13-11 advantage.
The contest was tied at 13-13 before the Wildcats took control of the contest in the second quarter. They made a 6-2 run and finished with an 8-3 run to pull ahead 30-21 at intermission.
Struthers held Salem without a field goal and just three points in the third quarter as it increased it lead to 45-24 after three quarters.
Both coaches emptied the benches in the final quarter and Struthers coasted home with the victory.
"These girls are working very hard every day and you can see the improvement in each game," Grandy said. "We've still got a way to go, but as long as they keep working hard they are just going to keep getting better."