Cheap envelopes tangle up busiest day for post office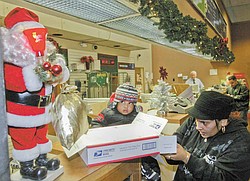 The Vindicator (Youngstown)

Photo
Maria Ruiz and her son Angel, 1, both of Youngstown, prepare to mail a package at theYoungstown Post Office Monday. Monday was one of the busiest postal days of the year.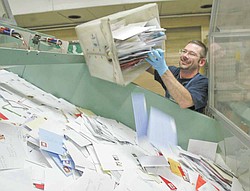 The Vindicator (Youngstown)

Photo
Youngstown Post Office employee Carl Flesher dumps a bind of mail onto a conveyor belt.
Monday was the last day for regular delivery items to arrive by Christmas.
Today is the last day for Priority Mail items to arrive by Christmas.
Wednesday is the last day for Express Mail items to arrive by Christmas.
Source: U.S. Postal Service
By KRISTEN RUSSO
Special to the Vindicator
YOUNGSTOWN
Consumers looking to save a little money this holiday season might be causing themselves — and their local post office — a bit of a headache.
The main culprit? Christmas cards with cheaply made envelopes.
Monday was the post office's busiest day of the year, Victor Dubina, U.S. Postal Service spokesman, said, adding the Youngstown Post Office handled about 600,000 cards and letters by the end of the day. The heavy volume was complicated by envelopes tearing in sorting machines used to separate cards and letters.
Youngstown Postmaster Tom Kerns said it will take about 24 hours to sort through all cards with torn envelopes.
"You think you're saving money, but you might end up spending more on postage," Kerns said.
Not only that. Some cards could end up being delivered late, and some might not be deliverable at all, he added.
Monday was the last day to mail items for regular delivery, although Kerns said local letters mailed today likely will make it to their destinations on time.
For packages mailed today, Dubina suggests shipping by Priority Mail. For those who plan to mail items Wednesday, he suggests Express Mail for delivery before Christmas.
For the procrastinators, Dubina again advocates using Priority Mail flat-rate boxes.
"It doesn't matter how much it weighs. It doesn't matter where it's going," he said. "As long as it fits in the box, it's the same price. Just like the [TV] commercial says."
Sarah Lown of Youngstown is one of those procrastinators. She was at the post office in search of boxes for shipping gifts to family members in New Hampshire.
She waited to ship her items because she hadn't found the perfect gifts until the last minute. She had the boxes in her hands, but no gifts to go in them.
"I probably won't actually be able to ship them until tomorrow," she said.