A mother's pursuit of her son's killer
By JOHN W. GOODWIN JR.
jgoodwin@vindy.com
YOUNGSTOWN
April Jackson once thought the man she believes killed her son in 2009 had beaten the justice system, but the heartbroken mother now finds comfort in knowing a court date is coming.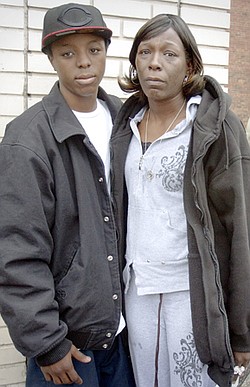 Photo
Geoffrey Hauschild|The Vindicator.April Jackson and her son Joseph stand outside a friend's business on Hylda Ave. after speaking about her son who was killed last year and whose killers have never been brought to justice.
It was May 25, 2009, when April Jackson last spoke with her 17-year-old son, Ashten Jackson. The teen left home with Jackson's former boyfriend, Paul Brown, and was not heard from again. Jackson immediately knew something was wrong because she stayed in constant contact with her three sons.
By May 27, police were searching for the missing teen, but April Jackson took matters into her own hands. After receiving an anonymous call that her son was murdered and left on the East Side, she began sending text messages and looking on the Internet for volunteers to help search for her son.
The search party found the body of Ashten Jackson in an East Side field.
"This situation has made us closer as a family. It has made us stronger, but it has been devastating to my mother and father. He [her father] keeps calling my other kids Ashten because he misses him so much," she said. "I have other kids, but Ashten was like my best friend. We would talk about anything and everything."
Since the murder, April Jackson has been conducting a personal investigation and crusade to find her son's killer. She said details of the crime and his actions after the murder have led her to believe Paul Brown is responsible. She said Brown would have had no reason to kill her child other than robbery.
April Jackson lost track of Brown, but she is not the only person to believe he is guilty.
Police charged Brown with the crime, and a Mahoning County grand jury indicted him on the murder charge in early 2009, something April Jackson did not know.
Brown was scheduled to appear for arraignment in November 2009 but failed to appear for the hearing. A bench warrant was issued for his arrest.
April Jackson thought the issue had been dropped and Brown would not appear in court for her son's murder, but law-enforcement officials said Brown is in a federal prison in Florida serving time for illegal possession of a firearm. Upon his release in September 2014, he will return to Ohio to face the murder charge.
Capt. Rod Foley of the Youngstown Police Department said the case against Brown was never forgotten. He said that when a fugitive is believed to have left town and is wanted here, the information is turned over to the U.S. Marshals Service or the Violent Crimes Task Force for apprehension.
"If we find him, he will certainly come back here and stand trial," said Foley.
Brown was found to be at the Coleman Federal Correctional Complex in Coleman, Fla. An order issued by Judge R. Scott Krichbaum of Mahoning County Common Pleas Court says that Brown is to be delivered to the common-pleas court here to go forward with the arraignment hearing he missed more than a year ago.
Jackson is happy to know that Brown will soon face trial for the murder of her son but said she will not have closure until justice is done.
"My son was only 17 years old and had made a complete turnaround. He was back in school and doing fine. Now, my son's headstone is on his grave," she said. "I want [Brown] in the electric chair."
Ohio no longer uses the electric chair for executions. The state's death penalty now is carried out by lethal injection.