Thin Mints knocking on your door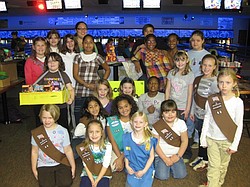 Photo
Girl Scout troops from Austintown attended a cookie sale kick-off rally and holiday party at Amron Lanes.
By ABBY SLANKER
It's time to make one the most difficult decisions of the year: Thin Mints or Peanut Butter Patties?
Service Unit 820, Girl Scouts of Northeast Ohio, which includes troops from both Canfield and Austintown, gathered for a cookie rally Saturday, to get psyched for this year's cookie sale, which starts Dec. 19.
The rally was held at Amron Lanes, and was not only a kick-off for the sale, but was also a holiday cosmic bowling party for the approximately 140 girls.
Meggan Sutherland, cookie product chairperson for Austintown and Canfield, was in charge of getting the girls excited about the sale.
"We have the same cookies to offer this year and the cost of the cookies is the same. We have three new troops this year and we are very excited to have them join us," Sutherland said.
Under the direction of Vicki Palmer, a glove drive was also held at the kick-off. The girls were encouraged to bring gloves and mittens to the party, which were then donated to the Youngstown Community School and the Mill Creek Children's Center.
A table was also set up for everyone to taste test the cookies available during the sale.
The Girl Scouts are also trying a new approach to selling this year. On March 12, they will go door-to-door in neighborhoods with boxes of cookies to sell. If a person is not home at that time, the Girl Scouts will leave a note on the door with the date and time they will be back in that neighborhood. If the resident would like to buy cookies at that time, they are advised to turn their porch light on and the Girl Scouts will come back.
If a resident misses the ordering process and misses the door-to-door campaign, local Girl Scouts will set up booths at several locations on Saturdays and Sundays in March and will have boxes of cookies available to buy.
The Girl Scout troops picked the right day to rally and celebrate the upcoming cookie sale, as Saturday was National Cookie Day.
For more information on ordering cookies, contact Sutherland at the troop cookie hotline at 330-333-1576 or troop80680@gmail.com.
More like this from vindy.com