Falls holds off Hubbard rally
Newton Falls 46 - Hubbard 35
Next: Niles at Hubbard, Monday, 7:30 p.m.
Next: Campbell at Newton Falls, Thursday, 7:30 p.m.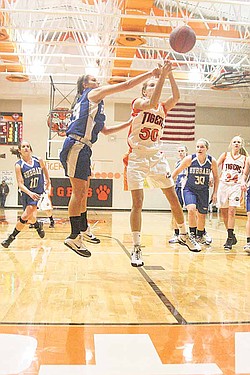 Photo
(13) Allie Deluco of Hubbard and (50) Destiny Prusky fight for the ball Thursday night.
By Doug Chapin
NEWTON FALLS
An 18-2 run in the middle of Thursday's game gave Newton Falls High enough of a cushion to withstand a late Hubbard rally as the Tigers posted a 46-35 girls basketball victory.
Falls (3-1) scored the final eight points of the second quarter to forge a 25-16 halftime lead. After the Eagles (2-3) tallied the first bucket of the second half, the Tigers ran off 10 more points for a 35-18 advantage with about two minutes left in the third quarter. Hubbard never got closer than eight the rest of the way.
"With the weather and snow, we weren't able to practice, took some time off, had a game postponed, so we kind of expected to be a little sluggish to start with," Newton Falls coach Mark Baker said. "Then we really started to fire on all cylinders in the second quarter.
"We want to play a fast-paced game. We want to shoot it as many times as we can shoot it."
The Tigers got off 54 shots Thursday, making 19 (35 percent), compared to Hubbard's 13-for-42 (31 percent) shooting. Falls forced 17 Hubbard turnovers and made 13 steals. The Eagles had 12 steals and forced eight Tiger miscues.
Senior post Destiny Prusky led Falls with 15 points, 11 rebounds and three blocked shots. Bridget Click contributed nine points and four assists, and Rachel Ellis had eight points and three assists.
"We have at least eight girls that had varsity experience last year and we have four really nice seniors," Baker said. "I can't speak enough about how important their leadership has been in practice, outside of practice. The girls are just doing all the little things right.
"Experience means everything. It really makes a huge difference."
Hubbard was paced by sophomore post Courtney Sargent with 11 points and 11 rebounds. Senior guards Emily Skebo and Allie Deluco scored nine points each. Deluco also had five steals.
The Eagles have just three letterwinners back from a year ago.
"Right now we have a seven-player rotation basically, and they're working pretty hard in practice," Hubbard coach Ross Stoffer said. "We have some people playing different positions, things of that nature, but they're listening to us and they are trying very hard.
"Newton Falls had averaged 30-some foul shots per game and they had just 10 tonight. That was one of our goals, to limit their free throws, so we're happy with that. We probably turned the ball over too much. The last couple games we've had too many turnovers."
The Eagles closed to within 35-22 at the end of the third quarter, then got to within 39-31 with 2:50 left in the game. Hubbard had the ball with a chance to cut further into the lead, but committed a turnover.
Falls then scored on a baseline out-of-bounds play when Angela Giuliano found Click for a layup. After another Hubbard turnover, the home team re-established a 12-point lead when Click found Prusky for a layup off a sideline out-of-bounds play.
"They [Hubbard] are a good basketball team and we were telling our kids that Hubbard was going to make a run, we have to be ready for it and respond to it," Baker said.
"They did make a run and the girls did a real nice job. They got frustrated a little bit, then settled down and started passing the ball very quickly and got a couple lay-ups. They also maintained their defensive intensity."