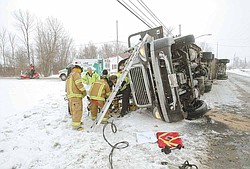 The Vindicator (Youngstown)

Photo
Lane Life Trans paramedics and firefighters from Cardinal Joint Fire District remove the driver from a tractor trailer that overturned Tuesday at the intersection of Leffingwell Road and U.S. Route 62, Canfield.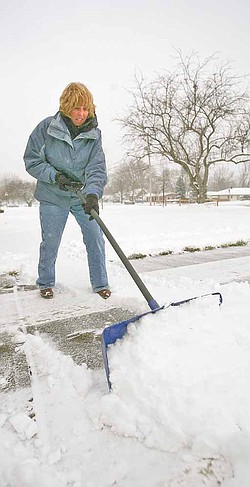 The Vindicator (Youngstown)

Photo
Janet Zolla, of Boardman, shovels snow from her Glenwood Avenue driveway on Tuesday, Dec. 14.
By DAVID SKOLNICK
skolnick@vindy.com
YOUNGSTOWN
Less than halfway through December, the Mahoning Valley has crowned a new snow king.
This is already the month with the most recorded snowfall for the area. As of Tuesday morning, there was 40.4 inches of snow, according to the National Weather Service.
About 7 to 8 inches of snow fell in Mahoning and Trumbull counties Tuesday afternoon with an additional 2 inches expected to fall overnight, said Mark Koontz, 21 WFMJ-TV's chief meteorologist.
The old local snow record was 36.4 inches in January 1999.
Valley weather data, which date back to 1934, are recorded by the weather service at the Youngstown-Warren Regional Airport in Vienna.
Because of the unpredictability of lake-effect snow, some parts of the area received almost 2 feet of snow while others had just a few inches, said Tom King, a meteorologist with the weather service in Cleveland.
"Lake-effect is not bad everywhere," he said. "Areas could get nothing, and others like Kinsman [on Tuesday] got 9.5 inches."
Though there is a 50-percent chance for snow today with 10- to 15-mph winds, no accumulations are expected in Mahoning County and about 1 to 3 inches in Trumbull County, King said.
Today's forecast calls for it to be partly sunny though the wind chill will be as low as 5 below zero.
"I think the worst of it is over," King said.
Even so, Koontz said people should stay off the roads.
"When you tell people it's dangerous and to stay at home, they don't," he said. "Seriously. It's dangerous out there. It's like skating on glass."
Driving this morning will be a "tough go," Koontz said. "If you take your time, you'll get there. Don't rush."
There is no snow in the forecast until Monday, when there is a 30-percent chance. There is also a 30-percent chance of snow Tuesday.
Even without the snow, the high temperatures every day through Tuesday will range from the low to high 20s. The average high temperature for the Valley for this time of the year is between 36 and 37 degrees.
Tuesday saw school closings and event cancellations, and the snowy road conditions may have been a factor in some accidents.
Two Youngstown city school buses were involved in weather-related accidents in the morning.
Neither involved major injuries. John T. Allen, school district spokesman, said he believes that both accidents involved cars sliding into the buses.
The first was on Steel Street on the West Side. A charter-school student who was riding the bus was taken to a hospital by her mother.
The other was in the Brownlee Woods area on the South Side at Belden and Windsor avenues. A bus driver was taken to the hospital.
The driver of a tractor-trailer lost control of his vehicle in Canfield at the intersection of U.S. Route 62 and Leffingwell Road about 12:30 p.m. Tuesday, sending it sliding off the right side of the road, said an Ohio State Highway Patrol dispatcher.
The truck overturned, and the man, whose name wasn't released, was taken to St. Elizabeth Health Center with minor injuries.
The dispatcher said the driver was cited for failure to control. The intersection was closed for several hours Tuesday while crews worked to upright the truck.
Also, communities cleaning up their roads imposed bans on parking on public streets.
The bans in Youngstown and Struthers are in effect till further notice. Boardman's ban is good till 6 p.m. Friday, and the one in Weathersfield Township lasts until noon Thursday.