WRTA's EasyGo Curb-to-Curb Service gains in popularity
12.13.2010 INFOCUS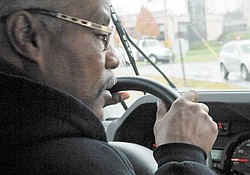 Gallery
EASYGO Fast facts
WHAT: EasyGo is a service of the Western Reserve Transit Authority offering curb-to-curb service for Mahoning County residents.
WHERE: Locations within all of Mahoning County. Riders will be able to use EasyGo service only to reach locations not served by WRTA fixed routes
WHO: Anyone in Mahoning County can use EasyGo, including the elderly and disabled.
When : Weekdays between 6 a.m.
and 6 p.m. Saturdays between 8 a.m. and 4 p.m.
HOW MUCH: Fares for the service are $3.50 for most passengers and $2.50 for those who are elderly or have a disability.
HOW TO: Scheduling up to seven days prior is encouraged and can be done by calling 877-845-WRTA. First-time EasyGo riders also can register online at http://www.wrtaonline.com/services_easygo_registration.html
Source: WRTA
STORY AND PHOTOS
By Rami Daud
YOUNGSTOWN
Barbara Altman, 56, entered the bus cheerfully, showing off an armful of Christmas-themed knickknacks, the spoils of two successful games of bingo at Free Methodist Church in New Middletown.
Normally, she would have had to ask a friend or family for a ride or call a cab.
But today her ride lasted only a few minutes. Altman is one of a growing number of riders who use the EasyGo Curb-to-Curb Service.
Started in September 2009, the service's popularity has "picked up some steam," said Tom Nugen, director of transportation for the Western Reserve Transit Authority.
Bus driver Lorenzo Wise, 59, said the service is "what the voters wanted," and Altman, who describes the service as "something for everyone," agreed. The ability to request a ride for everything from going to a movie with friends to grocery shopping, she said, has given her a greater feeling of independence.
A WRTA driver for the last 27 years, Wise only recently has been filling in for the countywide service. EasyGo's growing popularity means there is a greater demand for drivers, with 14 new hires since the program began and five drivers currently in training, Nugen said.
"This is a wonderful service for anyone," Nugen said. "You don't have to be a senior or have a disability."
After delivering Altman to her home, Wise picked up a middle-age man from his workplace in Boardman and delivered him to his Ellsworth home. He also picked up a Youngstown State University student who needed a ride to run errands.