Valley polka host steps into hall of fame honors radio host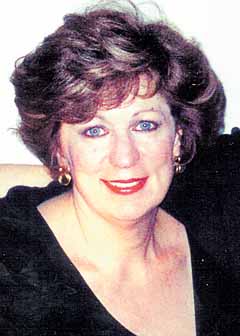 Photo
By GUY D'ASTOLFO
In the world of polka, Val Pawlowski is a hall-of-famer.
And she's got the awards to prove it.
She was honored for her work promoting and marketing polka by the Cleveland-Style Polka Hall of Fame at its annual ceremony recently in Euclid. It was the fifth award — and 15th nomination — she has received from Hall in the last 15 years.
Pawlowski is best known for her weekly radio show on 830-AM WKTX in Cortland, but she also plays a huge role in organizing polka events in the two-state area, including Polka Fest in Geneva on the Lake.
A Cleveland native, Pawlowski got into polka in earnest 15 years ago when she started working at WKTX. Her show, which she owns and produces, airs Saturdays from 8 a.m. to 1 p.m. She also sells advertising for the station.
"When I started, they said polka was dying," said Pawlowski. "But I'm still here."
She said the appeal of the ethnic music lies in both its wholesomeness and its fun, up-tempo excitement.
Pawlowski, who despite her name is not Polish herself, heard polka all her life, but never really liked it until she was an adult.
After living in California for a while, she returned to Cleveland where she sought a career in radio. She graduated from the Ohio School of Broadcasting, obtained an internship at WKTX — and the rest is history.
"I listened to other polka shows, and just to be different, I was happy and perky on the air," she said.
"The station got so much positive mail that they hired me."
She said she never imagined she'd have a career in polka, but hopes she has made a difference. Her show can be heard in 21 counties, and is part of the Nationality Broadcasting Network.
Pawlowski sees a new generation of people turning on to polka. They are mostly in their 40s but some are as young as college age.
Her future goals include getting polka music inserted into TV commercials, in the same manner as modern rock songs.
She also wants to introduce the accordion into school music curricula. "That will really bring us back," she said. "Any teachers who are interested can contact me and I will get them accordions." She can be reached at pawlowskival@yahoo.com.
Because Pawlowski was honored by the Cleveland-Style Hall of Fame, it begs the question: exactly what is Cleveland-style polka? She describes it as a regional style marked by fast-paced melody with vocals, but no trumpet.
Northeast Ohio has always been a hot spot for polka, and the eastern European countries that spawned the various styles are all well-represented here: Slovenian, Polish, Croatian and others.
Pawlowski said she doesn't favor any one style and considers them all one family. "It's like they say, when you get to heaven, God is not going to ask you what religion you are, as long as you believe."
After all, she noted, today's polka is an American art form, created by blending the folk music of eastern Europe with American influences.