---
Monday, December 13, 2010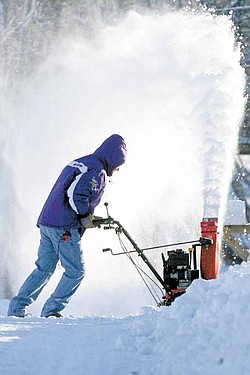 ASSOCIATED PRESS

Photo
Kevin Eastvold of Mason City, Iowa, pushes through the snow at the end of his driveway with a snowblower on Sunday, Dec. 12, 2010. Winter storms passed over North Iowa over the weekend, dumping several inches of snow over the region and causing numerous accidents.
See also:
Snowstorm expected to sock it to us tonight
Associated Press
CHICAGO
A powerful, gusty storm dumped mounds of snow across the upper Midwest on Sunday, closing major highways in several states, canceling more than 1,600 flights in Chicago and collapsing the roof of the Minnesota Vikings' stadium.
At least four weather-related deaths were reported as the storm system dropped nearly 2 feet of snow in parts of Minnesota and marched east. A blizzard warning was in effect Sunday for parts of eastern Iowa, southeastern Wisconsin, northwestern Illinois and northern Michigan, according to the National Weather Service. Surrounding areas, including Chicago, were under winter-storm warnings. Much of Iowa was under a wind-chill advisory.
In Minneapolis, the heavy snow left the Metrodome decidedly unready for some football. Video inside the stadium aired by Fox Sports showed the inflatable Teflon roof sagging before it tore open, dumping massive amounts of snow across one end of the playing field.
No one was hurt, but the Vikings' game against the New York Giants had to be moved to Detroit's Ford Field. The game had already been pushed back from Sunday to Monday because the storm kept the Giants from reaching Minneapolis on time. Stadium officials were trying to repair the roof in time for the Vikings' next home game, next Monday against Chicago.
The wintry weather, with blowing snow that severely limited visibility, impacted air and road travel. In the Chicago area, wind gusts of up to 50 mph, temperatures in the teens and wind chills well below zero were expected, along with up to 8 inches of snow.
At least 1,375 flights were canceled at O'Hare International Airport, and more than 300 were canceled at Midway International Airport, Chicago Department of Aviation spokeswoman Karen Pride said. Both airports expected more cancellations and reported significant delays.
Major highways in several states were closed due to poor driving conditions and accidents.
In Indianapolis, police said a man fatally stabbed his wife, then died four blocks from his home Sunday morning when his vehicle hit a tree after he lost control on a slippery road. Police did not immediately release the names of the couple.
Illinois State Police closed a section of Interstate 80 in the north-central part of the state after a multiple-car pileup west of Peru and part of Interstate 55 near Springfield after accidents and reports of zero visibility.
Seven vehicles crashed on Interstate 94 about 50 miles west of Milwaukee, prompting authorities to close the westbound lanes.
A vehicle lost control on an ice-covered road and slammed into a tree in southeastern Wisconsin, killing 21-year-old Alejandria Abaunza of Chicago and injuring two other people inside.
Interstate 90 from Albert Lea, Minn., to Exit 410 in South Dakota reopened Sunday afternoon after being closed Saturday because blowing snow reduced visibility. Minnesota state highways also reopened, although transportation officials warned that many were still snow-compacted, icy and, in numerous cases, down to a single lane.
In Iowa, Interstate 29 from the state line to Sioux Falls, S.D., remained closed, although other portions of it and Interstate 80 reopened.
AAA-Michigan said it hadbeen a busy day for its roadside assistance crews, with 850 calls from midnight through 12:30 p.m. Sunday.
Six people were injured Saturday when a van carrying 13 people hit a guardrail and overturned in Mecosta County, near Stanwood, Mich., in the north-central Lower Peninsula. Authorities said Sunday that weather played a role in the death of Douglas Munneke, 55, of St. Cloud, Minn. He died of a heart attack after collapsing while he was snow-blowing his driveway Saturday.
In western Wisconsin, a 79-year-old man snow-blowing the end of his driveway was killed when a plow truck backed into him. The St. Croix County Sheriff's Department said Clifford Larson of Woodville died at the scene.
Snow also blanketed Tennessee, where up to 8 inches was expected by tonight. WSMV-TV in Nashville reported that the bad weather forced several communities to cancel Christmas parades planned for Sunday.