Tablack to JFS: Prepare for cuts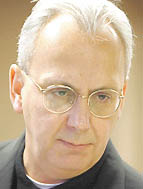 Photo
YOUNGSTOWN
Mahoning County's Department of Job and Family Services faces major financial uncertainties in 2011, County Administrator George J. Tablack said.
The county's JFS department will have to be prepared to react quickly if its state and federal funds — which together constitute almost all of its $24 million budget – are reduced in the middle of the current state fiscal year, which ends June 30, 2011, Tablack said.
With nearly 300 employees, JFS is the largest county department, and its caseload is increasing, said Tablack, also the county's budget director.
"The agency is going to have to be very cautious and be prepared to react on a dime," Tablack said after Thursday's county commissioners' meeting.
A budget cut in the middle of a funding year forces double the number of job cuts than would have been required had the cut come at the start of that funding year, he observed.
"They have, for two years now, been constantly adjusting downward, and are still trying to hit a moving target," he said of JFS employees and their budget. "We will continue to try to provide as much service as we can and expect to plan for less revenue," he added.
Although sales tax revenues are rebounding after 17 consecutive months of recession-induced decline, when compared to the same month in the prior year, the county's general fund faces several additional challenges, Tablack said.
Those challenges include the absence of what was recently $4 million in annual income from federal prisoners housed in the county jail, together with a potential $5 million loss in state funding going into 2012, he said.
"The commissioners and the budget office have been planning for reductions since July 2008,'' Tablack said.
The general fund is the county's main operating fund, which pays for central functions of government, such as the jail, courts and prosecutor's office. The general fund revenues were projected at $53 million in 2010.
In the meeting, Marilyn Kenner, chief deputy county engineer, told the commissioners her department recalled in late November six of the 16 employees it had laid off earlier this year to enable it to resume snow and ice removal. Those recalled were five truck drivers and a mechanic.
The commissioners approved a resolution to participate in the Ohio Public Works Commission's capital improvement program for the $2 million repaving next year of seven miles of Mahoning Avenue and for $1.1 million worth of other smaller road and bridge improvement projects.
The Mahoning Avenue repaving project, between the railroad track near Rosemont Road in North Jackson and the Portage County line, will be funded 80 percent by the federal government and 20 percent by an OPWC loan to the county, Kenner said.
To free up court space, the commissioners approved a $2,679 agreement with RGJ Industries Inc. of Boardman to move about 400 boxes of court-case files from the year 2000 and earlier from the area courts in Boardman, Canfield and Sebring to the basement of Oakhill Renaissance Place.
Old Austintown court case files were moved there earlier.