Poland survives in OT thriller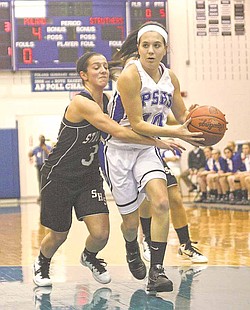 Photo
10) Emily Rollo of Poland drives to the hoop as (3) Adrianna Garchar plays tight defense during their game Thursday night.
By Greg Gulas
Poland
Emily Rollo scored 11 points and the Poland defense held Struthers High scoreless in the second overtime session as the Bulldogs defeated the Wildcats, 45-38 in an All American Conference, intra-division contest Thursday at the Poland Gymnasium that left fans wanting more.
"We pulled together as a team in the second half, especially on the defensive end in the second overtime period, Rollo said. "This was a good game between two very good basketball programs and we really needed a win in order to maintain our momentum. I couldn't be more proud of our overall effort."
With Rollo scoring five of her team-high 11 markers in the opening period, the Bulldogs survived three lead changes to forge an 8-7 advantage after the first eight minutes of play.
Alyssa Shields then made five of her nine points in the second frame as Poland (3-1) built an 18-14 lead at the half.
Struthers coach John Grandy, despite the loss, was pleased with his team's effort.
"Give Poland a lot of credit. They played hard and they're a well-coached team," he said. "Our effort was there as well, however, we just need to take care of the ball a little bit better.
"We're trying to find our identity so we'll go back to work, get ready for our next game and continue to give the same type of effort that we displayed here tonight," he added.
Struthers' Katelyn Ardale, who had a game-high 22 points, sank two of her five three-point buckets after intermission to help Struthers (1-2) knot the score at 28 with just eight minutes remaining.
Holding a 33-31 lead with just 17 seconds remaining in regulation, Poland's Kelsey Malenic hit her only bucket of the game to force the first overtime session.
Each team then scored seven points in the initial overtime and with the score tied at 33, a second four-minute period was necessary.
A bucket by Maura Bobby and five free throws by three players helped the Bulldogs outscore the Wildcats, 7-0 in the final overtime period for their victory.
"We really earned this victory tonight," said Poland coach Nich Blanch. " It was just a very good game between two very good basketball teams. I challenged my girls in the huddle during overtime and told them that good teams step it up a notch, while average teams fail to finish the game."
Blanch also praised Rollo, who took the game on her back when it counted the most.
"Emily [Rollo] is the girl who comes to practice, works hard and is the consummate team player," he said. "She wants to have a great senior year but first and foremost, wants the team to have a great year."
The defense also stepped up when called upon. After a rough first half, the Bulldogs recuperated and played tough.
"We didn't do a good job to defense [Katelyn] Ardale in the first half. She had the hot hand but we adjusted in the second half and that was the key," Blach said. "Tonight was the best that we ran our offense this season, but we also stepped up our game defensively as well."
Both teams suffered at the foul line. Struthers could sink just 5-of-10 free throws. The Bulldogs made 16-of-31 attempts.
More like this from vindy.com