Campbell mayor slated to appear in Jan. on DUI charge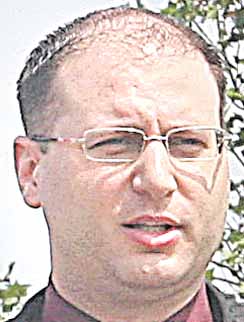 Photo
Campbell Mayor George Krinos
LISBON
Assistant Columbiana County Prosecutor Thomas Rodfong said Thursday that Campbell Mayor George Krinos must be in court next month on a charge of driving under the influence.
The next hearing is set for 2:15 p.m. Jan. 31.
The mayor has said he was not under the influence and is fighting the charge in Columbiana County Municipal Court here.
A pretrial hearing on the charge had been set for 9:45 a.m. Thursday, but the mayor's attorney was in court and gone before then. Atty. Michael J. Maillis of Akron is representing the mayor.
Rodfong said he had talked with Maillis but was not sure if the mayor was in court. One judge is temporarily covering both courts.
The mayor originally was stopped for speeding on state Route 11 on Oct. 27 in Columbiana County. His blood-alcohol level measured 0.092, just above the legal limit of 0.08, authorities said.
His challenge to the charge, as filed by his lawyer, includes:
The officer from the Ohio State Highway Patrol lacked a reason to stop Krinos as there was no evidence of any traffic violations.
The patrol officer "lacked an articulable and reasonable suspicion to prolong the initial checkpoint detention of Krinos."
The officer performing the field sobriety test was not properly trained or properly certified.
The field sobriety test was not in strict or substantial compliance with the National Highway Traffic Safety Administration, and therefore its usefulness was severely compromised and unconstitutional.
The tests violated Krinos' constitutional and statutory rights under the U.S. and Ohio constitutions.
The tests were not scored in substantial compliance with the NHTSA guidelines, and its usefulness was compromised and its use would be unconstitutional.
The officer lacked probable cause to stop Krinos on a totality of the circumstances.
Statements were made to the officer in violation of the Miranda warning and in a violation of Krino's Fifth and Sixth Amendments and his right to counsel under the U.S. Constitution.