Arguments rejected in malpractice case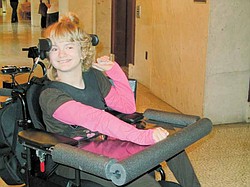 Photo
Haley Cobb, 10, of Leavittsburg, takes a break outside of the courtroom of Judge W. Wyatt McKay in Trumbull County Common Pleas Court. Her parents sued the doctor who delivered her in January 2000 for medical malpractice, saying the doctor's failure to suggest Haley be delivered by Caesarean section caused the child's cerebral palsy.
By Ed Runyan
WARREN
The Trumbull County judge who presided over a medical-malpractice trial in October that resulted in a $13.9 million judgment for a 10-year-old Leavittsburg girl with cerebral palsy and her parents has refused to order a new trial.
Judge W. Wyatt McKay of Trumbull County Common Pleas Court, in a judgment entry, rejected arguments by attorneys for a Cortland pediatrician that the jury was "swayed by 'sympathy, passion, and prejudice,'" that the jury award was excessive or that attorneys for the family acted improperly.
A jury awarded the family $13.9 million after a 15-day trial in which the family's lawyers said Dr. Tara Shipman of Cortland failed to provide proper care for the girl while delivering her at Forum Health Trumbull Memorial Hospital.
Specifically, the family's attorneys argued that the doctor should have performed a cesarean section. Instead, the girl, Haley Cobb, was born vaginally and later was diagnosed with cerebral palsy because of brain damage caused by oxygen deprivation.
Meanwhile, Atty. Martin F. White of Warren, lead attorney for the girl and her parents, Okey and Debra Cobb, has asked Judge W. Wyatt McKay of Trumbull County Common Pleas Court to enforce the $6.5 million settlement the family reached with other parties before the suit.
The $13.9 million verdict amount was levied against Dr. Shipman and her employer, Associates in Female Health Inc. of Warren.
The $6.5 million payment, approved by the Trumbull County Probate Court just after the trial ended in October, settled claims out of court involving Forum Health Trumbull Memorial Hospital and the estate of Dr. Edmundo Salero and his employer, Trumbull Anesthesia Group Inc.
The two amounts total $20.4 million before taxes and legal fees.
Dr. Salero, of Warren, now deceased, performed what one attorney called a "botched" attempt to resuscitate Haley Cobb just after her birth Jan. 4, 2000.
White has asked Judge McKay to enforce terms of the settlement with the hospital and Dr. Salero's estate, which White says requires separate amounts be paid to Haley Cobb ($2.4 million) and her parents ($4.1 million).
Instead, the hospital seeks to pay the entire $6.5 million in one amount, White contends. White also seeks interest on the settlement amount dating back to Oct. 18.
A hearing on White's motion is scheduled for 1:30 p.m. Tuesday.
More like this from vindy.com