Clarett plans to keep playing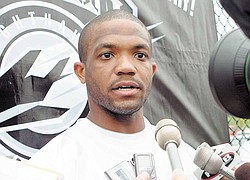 ASSOCIATED PRESS

Photo
This Sept. 1, 2010, file photo shows Maurice Clarett speaking to reporters following team practice with the United Football League's Omaha Nighthawks, in Omaha, Neb. Clarett says he would spend another year with the UFL's Omaha Nighthawks if they want him back. He told The Associated Press that the Nighthawks' opportunity has been "a blessing from God."
Associated Press
OMAHA, Neb.
Maurice Clarett's football comeback was a success, certainly to him.
The Warren Harding graduate and former Ohio State running back from Youngstown says he would gladly spend another year with the United Football League's Omaha Nighthawks if they want him back. He feels lucky to have played anywhere and been given a chance to rebuild his life after being incarcerated for 31/2 years.
"In January, I was in prison, and now I've completed a professional football season," Clarett said recently. "I would absolutely say I could never ever have thought of being at this place. It's a blessing from God, and I take it that way."
The 27-year-old Clarett hadn't played competitively since he led Ohio State to the 2002 national championship. He was suspended by the NCAA for taking improper inducements and failed to make it in the NFL.
Clarett pleaded guilty in 2006 to aggravated robbery and carrying a concealed weapon in connection with a holdup outside a Columbus bar, and wound up behind bars.
By all accounts, Clarett has been a model citizen in Omaha.
Nighthawks general manager Rick Mueller, a former executive for the New Orleans Saints and Jacksonville Jaguars, said the team probably will put Clarett on the team's protected list. That means no one would be allowed to pick him in the next UFL expansion draft. The UFL has said it hopes to add three teams in 2011.
"His arrow is on the rise," Mueller said. "He's going to get nothing but better from here on out. I'm glad we had him."
NFL draft consultant Gil Brandt, a former Dallas Cowboys executive, said it would a long shot for an NFL team to bring in Clarett next year.
"When you're out of circulation for a while, it takes more than a year to get back," Brandt said. "The thing that always impressed me about Clarett is that I think basically he's a good guy. I don't think what's happened with the robbery was vintage Clarett.
"But I don't think anybody will take a chance on him. Statistically, he hasn't shown enough for anyone to go overboard and take somebody who has that kind of baggage and then is 27 years old."
Clarett didn't get much playing time early in the eight-game season as he worked his way into football shape. He became a bigger part of the game plan the past couple games as top running back Ahman Green battled injury. He went into the Nighthawks' final game with just 25 carries for 85 yards and 11 catches for 92 yards.
With the season over, Clarett is back in Columbus, where he'll live with his girlfriend, Ashley Evans, and their 4-year-old daughter, Jayden. He's enrolled for the spring semester at Ohio State.
He said he's two years from completing his degree in gerontology. He'll also continue working out at OSU to prepare for next season.
Clarett said his time in prison matured him.
"Any time you have a period of that much isolation, and you reflect on your life and the decisions that brought you to the place you're at, it's going to do one of two things," he said. "You're going to stay stuck in the same place or you're going to evaluate and figure out how to get better.
"In my case, I had responsibility. I had a daughter. I decided to grow up and accept responsibility for the things I've done and move forward."
Mueller said Clarett eagerly participated in the team's community projects. Clarett especially enjoyed visiting the Boys and Girls Club in a hardscrabble area of north Omaha.
He spent much of his time in the club's education center helping boys with their homework and proofing math problems, said Paul Haskell, the club's director of marketing.
"You could really tell that's where he felt his place was," Haskell said. "I could tell he definitely wanted to be there."
Clarett said Omaha fans and people on the street have been welcoming, which initially surprised him.
"It's obvious I had some public struggles, but they recognize me, we speak and it's cool," he said.
Clarett rushed for 1,237 yards in 2002, helping Ohio State to its first national championship in 34 years. He scored the winning touchdown in the second overtime of a dramatic Fiesta Bowl victory over top-ranked Miami.
Then he was ruled ineligible the following year for taking extra benefits worth thousands of dollars. He sued to enter the NFL draft early, before he was out of high school for three years, but lost in court.