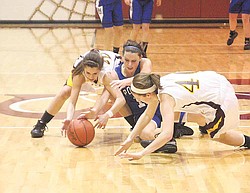 Special to the Vindicator

Photo
(22) Lexi Naples and (40) Elli Stoffer of South Range try to keep (12) Alyssa Shields from the ball during their game Monday night.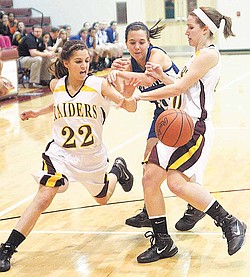 Special to the Vindicator

Photo
(22) Lexi Naples and (40) Elli Stoffer of South Range try to keep (10) Emily Rollo from the ball during their game Monday night.
South Range improves to 4-0 after close call with Poland
By Jim Flick
BEAVER TOWNSHIP
In a game fiercely fought until the final buzzer, the South Range High girls basketball team defeated Poland on Monday, 42-38.
South Range (4-0) led most of the game, jumping out to a 14-6 lead at the end of the first quarter. At halftime, the lead was 20-15.
But Poland (2-1) launched a determined comeback in the second half, briefly taking the lead in the third quarter and again in fourth quarter.
However, the Raiders outscored the Bulldogs 9-6 in the final stanza to secure the victory.
South Range was led by senior Ellen Stoffer, who scored 13 points.
Gabrielle Naples tossed in nine points and Samantha Smith added seven points for the Raiders.
"We have some experience," South Range coach Wayne Johnson said, referring to Stoffer, Naples and Smith. "Our seniors stepped up tonight."
Emily Rullo scored nine points to lead Poland while Adriana Sikora tallied eight points and Abbie Frank contributed seven points.
"Poland is a quick team," Johnson said. "But we're quick, too. We don't see many teams that match with our quickness, but they did."
Poland coach Nick Blanch said the Bulldogs were off their game.
"For some reason, we were shell-shocked tonight," Blanch said. "That wasn't our normal game."
Trailing at halftime, Blanch said he took his team into the locker room and pointed out their mistakes.
"They did a much better job in the second half," Blanch said.
Poland outscored South Range 17-13 in the third quarter and 23-22 in the second half, but it wasn't enough to overcome the first-half deficit.
"When you play a tough team, you have to play four quarters," Blanch said. "[We] needed a breather and South Range isn't a team to give you a breather."
Blanch had kind words for his top scorer, saying that Rullo "just plays hard. She does what she needs to do."
What Rullo did early in the third quarter was connect on two long-range three-point shots to pull Poland within a point of South Range, 22-21.
But Raiders co-captain Tabitha Stanton responded to Rullo's outburst by sinking two lay-ups to boost South Range's lead to 26-21.
Poland tied the score 26-26 and 28-28, and took a 31-30 lead, but South Range battled back each time.
Naples sank a free throw to give the Raiders the lead 33-32 at the end of three quarters.
Frank scored the first points of the fourth quarter on a short jumper, giving Poland a 34-33 lead.
But Hannah Wiery sank a basket and Naples completed a three-point play to give South Range a 38-34 lead.
Stoffer connected on a long jumper to increase the lead to 40-35.
The Bulldogs continued to scrap as the clock wound down, scoring three more points. But Stoffer scored the final points, sinking two free throws with 18 seconds remaining.