Battered Steelers control destiny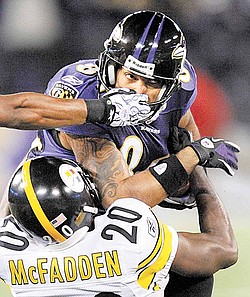 ASSOCIATED PRESS

Photo
The hand of Pittsburgh Steelers safety Ryan Clark grabs Baltimore Ravens wide receiver T.J. Houshmandzadeh (84) as cornerback Bryant McFadden (20) tackles him during the first half of an NFL football game, Sunday, Dec. 5, 2010, in Baltimore.
GAME TIME
Who: Bengals at Steelers.
When: Sunday, 1 p.m.
Where: Heinz Field, Pittsburgh.
TV/radio: CBS KDKA Channel 2; WNIO-AM 1390.
Associated Press
PITTSBURGH
They spent the week complaining the NFL was targeting them. The Pittsburgh Steelers now find the target is on them.
The Steelers were bloodied and beaten up, yet they turned game-saving plays by Troy Polamalu and Ben Roethlisberger into Sunday's come-from-behind 13-10 victory over Baltimore that gives them full control of the AFC North. Unless they lose a game or two the rest of the way, they're favored to win the division — and are in position for a first-round playoff bye.
It's difficult to overstate the importance of the victory for a team that put aside concerns over fines and officiating to win its biggest regular season game in two years. Lose, and the Steelers (9-3) essentially would have trailed the Ravens (8-4) by two games with four to play because Baltimore would have owned the tiebreaker.
Instead, the Steelers return home for their next three games and don't travel any further than the two-hour bus ride to Cleveland the rest of the season. Their remaining four opponents — the Bengals, Jets, Panthers and Browns — own a combined record of 17-30, and only the Jets are above .500.
The Steelers own the tiebreaker over Baltimore based on a better division record.
Yes, one game was that important. A bloody nose and an extensive injury list proved it.
"Nobody gave us a chance," wide receiver Hines Ward said. "Now we control our own destiny."
It's why Roethlisberger didn't dare come out despite having his nose bent awkwardly to the side by a hit from Haloti Ngata during the first quarter. The nose, surgically repaired four years ago after Roethlisberger broke it during his June 2006 motorcycle crash, is broken again and required additional surgery Monday.
Despite the injury, he didn't miss a snap.
Roethlisberger also held up despite a sprained right foot that, due to scar tissue breakup in the area where a fracture occurred years ago, forced him to wear a shoe 11/2 sizes larger than he normally wears.
"That's Ben," coach Mike Tomlin said. "We expect that from him, not that it's unappreciated. But we expect it from him, he expects it from himself."
Roethlisberger's mobility appeared to improve as the game went along, and his 9-yard touchdown pass to Issac Redman won it with 2:59 remaining.
The decisive score was set up when Polamalu's tomahawk chop to the arm stripped the ball while he was sacking the Ravens' Joe Flacco.
The Steelers, like their quarterback, proved they could stand up to a determined opponent on the road despite taking hit after hit in a typically physical, typically low-scoring Ravens-Steelers game. All four games between them the past two seasons have been decided by 4 points or fewer.
Right tackle Flozell Adams (high ankle sprain) became the third starting offensive tackle lost to injury this year, yet the Steelers overcame his injury and those to Roethlisberger, tight end Heath Miller (concussion) and punter Daniel Sepulveda (torn right anterior cruciate ligament). Sepulveda is out for the season and a replacement will be signed.
Already thin on the offensive line, the Steelers now must play the Bengals (2-10) on Sunday with almost no experienced offensive line backups.
They already were without tight end Matt Spaeth, who also has a concussion.