Ursuline wins THIRD STRAIGHT STATE TITLE
Ursuline State CHAMPS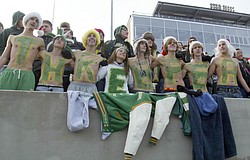 Gallery
By JOHN BASSETTI
bassetti@vindy.com
CANTON
Is there a doctor in the house?
In a game that will be known for some quality body-jarring hits, among punishing play in general, Ursuline put a hurt on Coldwater in the Division V state championship game, 51-21, Saturday at Fawcett Stadium.
The title put Ursuline in select company with teams that have won three consecutive state crowns: Cleveland St. Ignatius, Newark Catholic, Cincinnati Moeller and Versailles.
It even hurt at halftime, with Ursuline leading, 44-7, and the Irish holding a 473-109 advantage in total offense. In the first 24 minutes, Akise Teague had 13 carries for 192 yards and four touchdowns, including one on a pass from quarterback Paul Kempe.
Ursuline finished 15-0 and completed a 15-game win streak in the postseason over the last three seasons.
"One of the keys to winning this game was stopping the long, long touchdown runs," said Coldwater coach Chip Otten. "Unfortunately, we didn't do that," he said of four TD runs of 42 yards or longer, including a 53-yard run by Jesse Curry. "That killed us," Otten said of the tallies, excluding the early Kempe-to-Teague 73-yarder.
Bottom line, Teague was the difference, a comment echoed by opposing coaches after each of the five playoff games.
"They're big, fast and well-coached," said Otten. "That's tough to beat when they're bigger, faster, stronger, overall, than what we are."
Tegaue finished with 249 yards rushing on 19 attempts. He also had 94 yards receiving, 42 yards in kickoff returns and a 20-yard punt return.
His five TDs broke a Div. V championship game record and tied an all-divisions record.
"There was something about the kid," said Coldwater's Aaron Rammel. "He's hard to take down."
Alex Stammen supported Rammel's statement, saying, "Somehow, he breaks tackles. His quickness helps his momentum. You've got to get him down low or his momentum up high will carry him."
Stammen also said Ursuline's speed, defensively, "brings blitzes from everywhere. When you run a flat route or whatever, they're running to the ball. They bring it."
Ursuline coach Dan Reardon brought his 10 seniors to the post-game press conference where he proudly proclaimed that group had 53 wins over four years.
"That's obviously a school record for us," he said.
During practice last week, Reardon said he preached the factors that advanced his team through 14 previous games unbeaten: eliminating turnovers, running the ball and stopping big plays on defense.
"We were able to get a big play in that first drive, then they answered with a big play of their own," said Reardon. "Other than that one in the first quarter, I think we did a good job minimizing their big plays.
"It seems like every time we [Ursuline and Coldwater] get together, there's a lot of offense," said Reardon. "For them to come back after losing their coach is an accomplishment."
His second comment was about Otten's ascension after the loss of John Reed, the longtime Cavaliers coach who passed away in May.
Reardon said that off-tackle plays were probably the most effective ones in Saturday's game. "That's what we've been very good at all year long and today was kind of a culmination of that."
Coldwater, which also lost last year's Div. V title game to the Irish, 55-22, finished 11-4.
The Irish scored right off the bat on the 73-yard TD at 10:52. After Ursuline got the opening kickoff, Kempe ran two plays, then passed to his right side to Teague, who appeared not to have any defender close by in coverage near the line of scrimmage.
Coldwater came right back and scored at 9:16 when Ethan Bettinger threw to Klenke for a 49-yard tally. Two Ursuline tacklers missed Klenke as he raced downfield. Troy Otten's PAT pulled the Cavaliers within, 8-7.
Jesse Curry's 53-yard touchdown run came on Ursuline's first play of its next possession and Jeff Podolsky's kick lifted the Irish to a 15-7 lead through the end of the first quarter.
Just 29 seconds into the second quarters, Teague broke off a 46-yard touchdown run and Podolsky's PAT stretched Ursuline's lead to 22-7 at 11:31.
Podolsky put the hit of the first half on Klenke, who was in the process of catching Bettinger's pass . But the vicious blast in Klenke's gut as he caught the ball knocked it onto the turf.
Teague's run after taking a snap out of the shotgun turned into a TD of 65 yards for a touchdown at 9:47 and Podolsky's conversion run - again after lining up to punt - was successful. However, Podolsky took a jarring hit that sent him flying backwards into the end zone. It sealed Ursuline's 30-7 lead.
Ursuline bumped its margin to 37-7 at 5:25 after Mr. Touchdown ran 17 yards via a studder-step, sideways run and lunge into the end zone followed by Podolsky's PAT.
The half ended with Ursuline ahead, 44-7 after Paul Kempe's 1-yard run following a Coldwater punt that gave the Irish possession at its 11. A good gain in the march was a 12-yard pass completion from Kempe to Keil'n Thurston. Podolsky's point-after kick was the final point of the first 24 minutes.
Klenke's 24-yard TD catch from the hands of temporary quarterback Aaron Rammel put a dent in Ursuline's lead as Coldwater, after Troy Otten's PAT, came within 44-14 just 1:50 elapsed in the third quarter.
Ursuline jacked its lead to 51-14 on a 42-yard TD run by Teague and Podolsky PAT with 4:00 remaining in the third quarter.
Just after Ursuline players tried to douse Reardon with a bucket of cold water, Coldwater got a touchdown on a Bettinger pass to Klenke covering 9 yards and Otten's PAT to pull within 51-21 with 4:26 left in the game.