Ursuline pep rally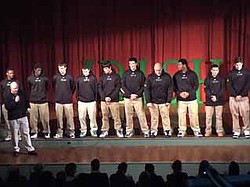 Video
Ursuline High School in Youngstown, Ohio hosts a pep rally to send their football team to the D5 State Championship game against Coldwater at Canton Fawcett Stadium.
Ursuline students, staff cheer on their football team to today's state championship game
By Kristine Gill
YOUNGSTOWN
Ursuline High School Principal Patricia Fleming plans to say the rosary throughout today's game.
"That's standard practice for me," said the principal of 15 years who has attended every game this season.
She, along with teachers, players and students, gathered in the school auditorium Friday for a pep rally to cheer the Irish onto their third-straight state championship.
Excited faces dotted a sea of green and gold that chanted with cheerleaders who began a chorus of "U-H-S."
Senior students performed skits that had viewers chuckling in their seats, the first of which featured songs by Beyonc that skirt-clad boys danced to.
Fleming laughed along with them, at times covering her face in embarrassment.
"Those skirts weren't knee-length like when I was here," said Eric Wolford, Youngstown State University's head football coach and 1989 Ursuline High School graduate.
Wolford spoke at the rally telling students to cherish their days in high school and getting them excited for game day. "You have a chance to be a part of something special, and it's history," Wolford said.
UHS Coach Dan Reardon also spoke, thanking the crowd for its support over the season and commending the seniors for making it to the state championship each year they played.
"These seniors have just done a great job," he said. "There's a lot of good players in this class."
Reardon said the school is 17 yards away from a school record of 5,000 rushing yards in a season and boasts having both the Northeast Ohio offensive and defensive players of the year.
"That's almost unheard of," Reardon said before addressing fans.
"We need your energy, he said. "We need your enthusiasm. We feed off of you. We want to hear you."
The players watched the rally from above, like silent statues in a state of concentration. Fleming, who rides with the team to away games, said the boys pass the bus ride in a similar fashion. "They're very quiet, very focused. They're trying to concentrate," Fleming said.
The cheerleaders try to be quiet during those rides, too.
"They take away their cell phones," said co-captain Danielle Carusone.
"The senior boys take it seriously," said senior co-captain Paige Larney.
"They're even in the zone today," said senior Erika Klempay.
Running back Akise Teague said that silence and the team's pre-game rituals are important.
"We have a prayer meeting, and we always do our chants," said Teague, who was recently named Ohio's Mr. Football by The Associated Press and selected for the Division V All-Ohio football team.
Should the team bring home a title today, the bus ride home won't be so quiet.
"If it's a win, it's a lot different," said Keil'n Thurston, senior wide receiver and defensive lineman. Thurston was recently selected as co-defensive player of the year and also named to The Associated Press Division V All-Ohio football team.
Both players are bittersweet about playing their last high school game.
"It's an in-between feeling right now," Teague said.
"It came quick," Thurston said.
The school ended the assembly with prayer and recital of the fight song and the alma mater as students filtered out to head home for the weekend.
"We know it's going to be a tough game, but we're very confident," said senior Louie Joseph, who will watch from the stands today. "They always get it done."
Joseph and friends planned to wake up early this morning to paint their chests for the game.
"We hope we don't get hypothermia, too," said senior Peter Garthwaite. "We'll drink lots of O.J."