Valley kids enjoy the ride at Liberty farm
By Ashley Luthern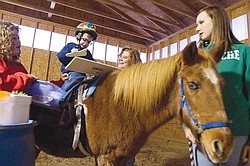 The Vindicator (Youngstown)

Photo
Billy Graff, 3, works to complete a puzzle during a therapeutic riding session at Forget Me Not Horse Farm in Liberty Township. He is assisted by volunteers Rachel Bowser, left, 14, of Liberty, riding instructor Penny Mulichak and Taylor Harshbarger, 14, of Girard.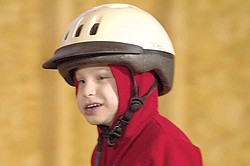 The Vindicator (Youngstown)

Photo
Cody Denmeade, 4, smiles during a therapeutic riding session at the Forget Me Not Horse Farm. Jenessa Spangler, 9, of Cortland, has been fundraising to help Cody attend the sessions, which cost $20 for a half hour.
aluthern@vindy.com
LIBERTY
Four-year-old Cody Denmeade loves to ride horses.
"He can't sit up on his own, but he can sit on that horse," said his mom, Lisa Denmeade of Struthers. "He absolutely loves horseback riding."
Cody suffers from brain damage and is one of about 20 special-needs children who attend therapy riding sessions at Forget Me Not Horse Farm, 1831 Pleasant Valley Road.
Billy Graff, 3, of Boardman has been riding horses for about a year. He has Williams
syndrome, a genetic condition characterized by medical problems including cardiovascular disease and learning disabilities that affects one in 10,000 people worldwide.
"We were doing physical therapy with him and had not considered equine therapy," his mom, Anita Graff, said. "Within two months, you could see a difference in his walking, and his speech became more clear."
Of the more than dozens of horses housed at the farm, four are used for therapy, said Penny Mulichak, riding instructor and co-owner of the farm with her husband, Brian Mulichak.
Mulichak is a physical-therapy assistant for Easter Seals and Fairhaven School. She began studying engineering, but 18 years ago, equine therapy caught her interest.
"I could just see how it was shift engineering with body mechanics and that it could work with these kids," she said. "This was making significant changes in their posture, speech, ability to eat and their core muscle control."
The movement of the horse is transferred to the child, giving a combination of motor, sensory and neurological input, she said.
Michelle Airhart's 6-year-old daughter Anna has cerebral palsy. Anna's hips are coming out of their sockets, and she wears leg orthotics. After a summer of riding, her doctor noted a 15 percent change in her hip, said Michelle, of McDonald.
Josh Kapluck, 9, of Warren also has cerebral palsy and is nonverbal, said his mom, Heather Kapluck.
"He's so excited to be here," she said. "He'll flap his hands to show it."
His older siblings have sports and dance, Heather said, but riding is "Josh's thing."
In October, Mulichak had an end-of-season awards ceremony, which also served as a fundraiser.
Riding lessons cost $20 for a half-hour session, and Mulichak said a seven-week season is the minimum to have an effect that will last three months. The farm tries to provide $140 scholarships to special-needs children whose families could not otherwise afford it. Horseback riding begins with warm weather, usually in April or May, and continues until the end of October.
Jenessa Spangler, 9, of Cortland began taking riding lessons two years ago. When she found out about the therapy riding sessions, she decided to raise money for one child. She chose Cody and already has raised $200 by selling lemonade, corn-on-the-cob and collecting donations at events.
"I feel like it's a really good thing because I'm making a difference in someone else's life, and it makes a difference in my life," Jenessa said.
Mulichak added that the farm also could use volunteers to help in therapy sessions who would be able to walk or jog for half-hour intervals, lift 50 to 80 pounds and feel comfortable around horses. Anyone who would like more information or is interested in donating or volunteering can reach Forget Me Not Horse Farm at 330-539-6577 or 330-240-2945.