Others join in opposing sealing of documents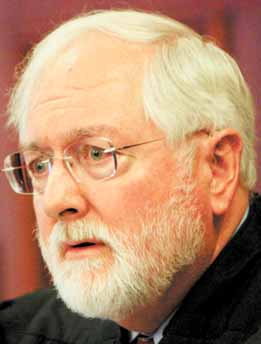 Photo
Visiting Mahoning County Common Pleas Court Judge William H. Wolff Jr. from Kettering
In more Oakhill coverage ...
YOUNGSTOWN
The Vindicator and 21 WFMJ-TV aren't alone in opposing secrecy in the Oakhill Renaissance Place criminal conspiracy case.
The special prosecutors have filed a brief in opposition to the Cafaro interests' motion to seal all bills of particulars and notices of intent to introduce evidence until after the trial.
Ironically, that brief in opposition to sealing was filed under seal last week in accordance with instructions from visiting Judge William H. Wolff Jr.
Equally mum was Special Prosecutor Paul M. Nick, chief investigative counsel for the Ohio Ethics Commission, who declined to comment on his rationales for opposing secrecy.
In a 73-count indictment, five people and three companies are charged with conspiring criminally to impede the move of the Mahoning County Department of Job and Family Services from Cafaro Co.-owned rented quarters to Oakhill Renaissance Place.
Oakhill is the former Forum Health Southside Medical Center, which the county bought in 2006. JFS moved to Oakhill in 2007.
Filing the sealing request were defendants Anthony Cafaro Sr., former president of the Cafaro Co., his sister, Flora Cafaro, who is a part owner of the Cafaro Co.; the Cafaro Co. and its affiliates, the Ohio Valley Mall Co. and the Marion Plaza Inc.
Joining them in the sealing motion was defendant John Zachariah, former county JFS director.
Among the defendants in the alleged conspiracy are county Commissioner John A. McNally IV, county auditor Michael V. Sciortino and former county treasurer John B. Reardon.
Two defendants, Flora Cafaro and Atty. Martin Yavorcik, are charged with only one count of money laundering and not with conspiracy. The money-laundering charge pertains to an allegedly concealed $15,000 gift from Flora Cafaro to Yavorcik's unsuccessful 2008 campaign for county prosecutor.
"The whole purpose behind this, and the judge agreed, was to prevent inflammatory language in the pleadings from prejudicing potential jurors," Joe Bell, director of corporate communications for the Cafaro Co., said of the sealing request.
To avoid pretrial publicity that might bias potential trial jurors, Judge Wolff ordered all nonroutine documents in the case filed under seal so he can screen them before making all or parts of them public.
The Vindicator and WFMJ, however, are arguing that the public's right to know is paramount and that the remedy for bias among potential jurors would be to move the trial to another Ohio county, if necessary.
Bell would not comment on whether the Cafaro interests would prefer to have the case tried here or in another county.
Yet another motion was filed jointly under seal Tuesday by Sciortino and McNally to ensure public access to document filings after ensuring that the filings are in accordance with established court rules.
A subpoena was issued Monday to McNally's lawyer, Lynn Maro, but court clerks said it is also under seal and they couldn't provide details concerning it.
Neither McNally, nor Sciortino, nor Sciortino's lawyer, John B. Juhasz, replied to requests to comment on Tuesday's motion filing. Maro did not respond to a request to comment on the motion filing or subpoena.
A hearing concerning the document-sealing issue and the motion by the Cafaro interests to dismiss the indictment will be at 9 a.m. Monday.
Bills of particulars have already been filed under seal concerning details of the charges against Zachariah and Reardon. A bill of particulars concerning Yavorcik and Flora Cafaro was filed publicly before the judge issued his sealing order.
The case is set for trial June 6.