Scrappers win an ugly one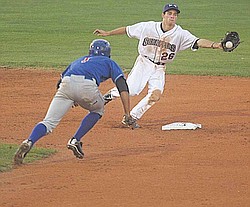 Photo
Nick Bartolone tries to field a bad throw as (1) Jonathan Jones beats the play Monday night in Niles.
By PETE MOLLICA
NILES
The Mahoning Valley Scrappers snapped a five-game losing streak on Monday night with a 4-2 victory over the Auburn Doubledays, but it wasn't pretty.
The Scrappers (29-41) managed just three hits against the Doubledays in the New York-Penn League game at Eastwood Field. Mahoning Valley had lost three straight games to the Doubleday, , but put together a three-run fourth inning and then relied on some outstanding relief pitching to gain the win.
"When the wins are coming few and far between, any win is a good one, but this certainly wasn't a very good outing on our part," said Scrappers manager Travis Fryman.
"We didn't hit the ball again and we made some mistakes in the field, but we did get some good pitching.
Scrappers starter Michael Rayl (2-4) picked up the victory and pitched five solid innings, allowing five hits and both runs, although only one of them was earned, while striking out eight and walking just one.
Reliever Julio Ramirez came on and pitched three perfect innings, retiring all nine batters he faced, and Clayton Ehlert retired the Doubledays in order in the ninth to get the save.
In all the Mahoning Valley pitchers retired the last 16 Doubledays in order and 18 of the last 19.
"We got some excellent pitching tonight," Fryman said. "Ramirez was just outstanding and it was by far his best outing of the season. He had given us a good inning or two at different times, but he's never gone three innings like he did tonight.
"There has been a lot of frustration in the clubhouse this past week and losing will do that to you, but we just have to keep going at it and get ready to do it again tomorrow," he said.
The Scrappers took the early lead in the second inning when Jesus Aguilar led off with a single and Brian Heere followed with a walk. Tyler Cannon then dropped a perfect sacrifice bunt to move both runners up and Diego Seastrunk followed with a sacrifice fly to left scoring Aguilar.
Auburn (31-38) came back in the third inning to take the lead with a two-run rally that was helped out by two Scrappers' errors.
Marcus Brisker led off with a triple down the third base line and Jon Jones then hit a grounder to second, but was safe when Kevin Fontanez's throw pulled Aguilar off the bag while Brisker scored on the play. Rayl then had Jones picked off first, but as he took off for second Aguilar's throw went wide of second base and Jones ended up at third. Gustano Pierre then singled home Jones.
The Scrappers then sent nine batters to the plate in the fourth inning with the help of Auburn's pitching which issued five walks. Giovanny Urshela led off with a single and after two straight walks scored on an infield grounder by Tyler Cannon.
The Doubledays, who used three pitchers in the inning, then walked in one run and the third scored on a wild pitch.
But that was the extent of the Scrappers' offense which had just two base runners over the final four innings. Shortstop Nick Bartolone had the only other hit for Mahoning Valley, an infield single off the leg of relief pitcher Juan Hernandez in the seventh inning.