City schools chief hopeful accents achievement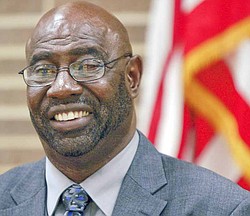 Photo
William D LEwis The Vindicator Ytown Schools Supt. candicate Timothy Dortch meets bd and community 8-30-10.
By Denise Dick
By DENISE DICK
YOUNGSTOWN
Timothy Dortch, the third finalist for the city schools superintendent post, says he'd emphasize student achievement if selected.
"I believe that all students can learn," said Dortch, director of student support services for Kent City Schools. "I believe that success breeds success, and I believe that schools and the school community can control the conditions of success. I believe once we give them that little bit of success, they will crave and want more success."
Dortch is the third of five finalists for the superintendent position and spoke Monday during a community forum at Choffin Career and Technical Center. About 40 people attended.
Wendy Webb, superintendent of the city schools since 2004, is retiring at year's end.
Dortch of Stow, who has a doctorate, served as a middle- and elementary-school principal at Kent before moving into his director's position. He also worked as a principal and a teacher in the Lorain school district before moving to Kent.
As far as his philosophy on discipline, Dortch said children have to be taught how to behave. Some come to school and don't have the knowledge about what's appropriate or inappropriate, he said.
"Sometimes, you have to set limits and set parameters," Dortch said. "At the end of the day, it's student achievement that's going to help them make their way in the world."
He worked with the data in his school district to identify students in middle school who were at risk of dropping out when they became high school students.
Smaller academic teams were developed to help those students, providing more individualized instruction and allowing them to build relationships with their teachers, Dortch said.
While the demographics of Kent are different from those of the city, and both are different from Lorain where Dortch formerly worked, he says that "students are students."
"I don't care who they are or where they come from, they all deserve an education," he said. "It's all about student achievement."
Dortch said he also believes staff development and in-service are important as ways to help teachers. He also said it's important to have involvement in the schools of community groups.
"You can't teach a kid if you don't care about him first, and the kids know," Dortch said.
Forums continue at 7:30 tonight at the Youngstown Board of Education office board room, West Wood Street, with Thomas Robey, superintendent of Campbell schools.
On Wednesday, Connie Hathorn, executive director of Akron City Schools, the fifth finalist, will address the public and answer questions at a forum at 7:30 p.m. at Choffin.