YSU's Ekweremuba picks up the finer points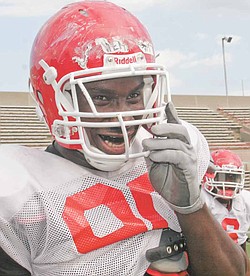 Photo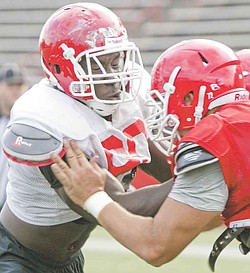 Photo
YSU's Ekweremuba picks up the finer points
By JOE SCALZO
YOUNGSTOWN
It's March, 2007, and Obinna Ekweremuba has just moved from Nigeria to Brooklyn. He's standing outside, where his father is teaching him how to shovel snow, when a little kid from the neighborhood walks over and says, "Where are you from?"
EKWEREMUBA: Nigeria.
LITTLE KID: Oh my God, have you seen "Blood Diamond"? Does that really happen? Do you live in the forests and stuff?
EKWEREMUBA: (laughing) No, it's not like that.
---
The first thing you notice about Ekweremuba is his size. The YSU sophomore is 6-foot-3, 250 pounds, but numbers don't quite capture it. He looks more like an action figure, a slightly smaller version of former Browns No. 1 draft pick Courtney Brown.
"The first time I saw Obinna, it looked like he was chiseled out of granite," said Benyard Jones, YSU's former defensive line coach. "He looks like one of the greatest players ever."
Like a lot of immigrants, Ekweremuba (ek-WURR-ray-MU-ba) came to the United States to get a college education. After getting turned down by Rutgers, his uncle told him about YSU's civil engineering program.
"He said, 'It's quiet there and you can come down and get your work done and go back to the city,'" Ekweremuba said.
He enrolled in the summer of 2007, where the former soccer player was quickly introduced to American football by his roommate, Pittsburgh native Mark White.
"In Nigeria, we have ESPN, but they don't show American football, they show soccer" said Ekweremuba, a high school basketball player who also played soccer before getting too big. "It's mostly soccer.
"So my roommate was like, 'This is American football. You hit people.'"
Ekweremuba spent his freshman year playing the Madden NFL video game, eventually wandering over to YSU's practice to watch football in person.
"As I watched the practice go along, I was like, 'Yeah, I kind of like this,'" he said.
Even better, his frame was perfect for it. So in the spring of 2008, he walked on with the Penguins as an incredibly raw, but incredibly promising, 19-year-old defensive lineman.
---
"Treat a person as he is, and he will remain as he is. Treat him as what he could be, and he will become what he should be."
— Jimmy Johnson
---
Ekweremuba redshirted the 2008 season as he learned the basics of the position. By the time Jones arrived in 2009, he was still very raw.
"The main thing was trying to teach him to play low," Jones said. "He didn't understand leverage. When you grow up playing football, you know the game is all about leverage, but in soccer, you're basically standing up the whole time.
"It's a big transition."
Unlike playing linebacker and defensive back — or soccer, for that matter — playing on the defensive line gives you no time to read the play and react. Instead, you just react.
"Because of the distance between you and the ball, everything happens really fast," Jones said. "For him, that was really hard. And it was a little unfair to him, never playing before.
"He wanted to be good. He just didn't know how."
First, Jones thought, he needed to get tougher. In the 2009 spring camp, Ekweremuba went down after getting kicked in the shins, prompting Jones to tease him about getting some shin pads and going back to soccer.
"Man, when you play football, you've got to be tough," Jones said. "He needed to develop a football player's mentality."
But YSU's coaches stuck with him, in part because of his upside but also because of his attitude, which impressed everyone around him.
"He's a relentless worker," said YSU senior defensive lineman Luke Matelan, one of Ekweremuba's best friends on the team. "He and I, we've grinded since last season and every day he's asking, 'How can I get better? How can I get better?'"
---
"It is a fine thing to have ability, but the ability to discover ability in others is the true test."
— Lou Holtz
---
Ekweremuba didn't play last fall — "He wasn't ready to contribute," Jones said — but was named the scout team's defensive player of the week against Northeastern in Week 3.
After a 6-5 season, Jon Heacock resigned and Eric Wolford was hired, bringing in an entirely new coaching staff. Former NFL defensive lineman Tom Sims replaced Jones as the defensive line coach, where he saw the same potential — and had the same frustrations — as Ekweremuba's other coaches. On one play, Ekweremuba saw a player on the ground, didn't hear a whistle and hit him.
Bam, 15-yard penalty.
"There simple things about football that we take for granted that you have to explain to him at times," Sims said, chuckling. "But you've got to be impressed with the amount that he's learned and picked up.
"He wants to be good and when you combine those things with ability, you have a chance."
YSU defensive coordinator Rick Kravitz, one of Ekweremuba's biggest fans, lauds his long arms (which allow him to press and separate from linemen), his effort ("That son of a gun plays hard," he said) and, more than anything, his attitude.
"When he makes a play, we get excited because of his enthusiasm," said Kravitz. "He's just scratching the surface of his potential and you're going to see huge strides."
Ekweremuba has rotated in with the first team for much of this summer's practices. He likely won't be a starter but he'll see plenty of playing time. And with two more years ahead of him, the best is yet to come.
"He's a guy that's got a chance to help us," Wolford said.
---
"Son, you've got a good engine, but your hands aren't on the steering wheel."
— Bobby Bowden
---
At a recent practice, Sims was conducting pass rushing drills and Ekweremuba did a weak swim move past a tackling dummy.
"Looks like Tarzan, plays like Jane," a teammate yelled.
There are two things Ekweremuba gets a lot of — grief and nicknames. Football players are not known for their sensitivity, so moms, girlfriends and African heritages are all in play.
As they say, toughness isn't limited to the playing field.
Teammates tell Ekweremuba he grew up in a hut. They say "The Lion King" was filmed down the street from his house. They tell him he's good at chasing down quarterbacks because he had to chase down antelopes in the jungle every day.
"He's one of the guys, so anything is fair game," Sims said, laughing. That includes language. Although English is Nigeria's official language — Ekweremuba speaks with a surprisingly light African accent — he sometimes says things that are technically correct, but not really. Like when he calls Kravitz the "defensive line coordinator" or calls the ground the "floor."
"He loves it all; he's such a good sport about everything," Matelan said. "He's very proud of where he comes from."
Teammates call him the "Nigerian Nightmare," in honor of former Chiefs running back Christian Okoye. They also call him Big O, Obi-Wan Kenobi and ... well, anything except his last name, which no one can pronounce, including Wolford, who calls him "Obi."
Ekweremuba, in turn, calls Wolford "sir."
"He can call me whatever he wants as long as he keeps getting those sacks," Wolford said.
---
"I can't believe that God put us on this earth to be ordinary."
— Lou Holtz
---
Like a lot of college football players, even at the FCS level, Ekweremuba dreams of one day playing in the NFL. But if that doesn't work out, he wants to stay in the United States for at least five years after graduation, possibly starting his own business.
He's getting more and more Americanized, listening to anything from rap to country. He loves action films, loves Charlie Staples' ribs and, like any good Ohioan, hates snow.
"The first time I saw snow, I was sick for like two weeks in school," he said. "At first it was sweet. But when I got cold, it was not fun."
His life revolves around school and football, although he does get home to Brooklyn in the summer, where he sees his sister (who runs track at the local high school) and his brother (who is in college).
By the time he's used up his eligibility, Ekweremuba will be 24. That's old for an NFL hopeful but it gives him plenty of time to catch up with guys who started playing football in third grade.
"I know I'm not where I want to be yet, but I know I can get better," he said. "We've got the best coaches in the conference, as far as I'm concerned, and I'm getting 100 percent better every day."
Will he fulfill his potential? It's too early to tell. The real Obi-Wan Kenobi once said, "Your eyes can deceive you. Don't trust them."
YSU's coaches are taking the same approach, choosing to see what he can become, instead of just what he is.
(You know, like a blood diamond in the rough.)
"He just has a big upside," Sims said. "It's up to us as a staff to get it out of him."