First Panerathon benefits new breast-care center
2010 Panerathon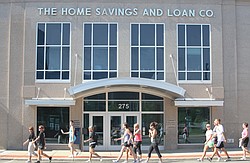 Gallery
By CHUCK HOUSTEAU
YOUNGSTOWN
The theme song from "Rocky" sent off more than 3,000 runners and walkers from the starting line of the Covelli Centre in downtown Youngstown Sunday morning for the first Panerathon.
The highlight race was the 10K road race sponsored by the Youngstown Road Runners Club and nearly 500 runners raced through downtown and up into a hilly course through Mill Creek Park for a prize pool worth $5,000.
The event, sponsored by Covelli Enterprises and Panera Bread franchisee owner Sam Covelli, was a benefit the Joanie Abdu Comprehensive Breast Cancer Center to be built on the campus of the St. Elizabeth's Health Center.
"We're so happy to be a part of this event," said Covelli. "I think it is going to be one of the most important things for this community — the Joanie Abdu Breast Cancer Center — and it was nice to see how the community rallied around this event.
"This has far exceeded my expectations. It's unbelievable. It's great to see."
Ken Stoltzfug of Canton was the men's winner of the 10K with a time of 36:43, while Christina Adams of Hubbard won for the first women with a personal best time of 41:20.
Robbie Sontheimer, 16, of Erie, Pa., was first to cross the finish line in the two-mile walk-run with a time of just over 10 minutes. The first woman was 15-year-old Rachel Durbin of Lowellville High School in 11:15.
The race wound through the streets of downtown and then up the Mahoning Avenue bridge before turning up into Mill Creek Park. The run continued up along and around Lake Glacier back to Mahoning Avenue and back across the bridge into downtown and the Covelli Centre.
Stoltzfug,38, said he used the race as a tuneup for a half-marathon he is running in two weeks in Erie.
"It was a challenging course with a lot of hills, but not too many," said Stoltzfug. "Usually my time wouldn't win a lot of races. I was hoping to run a little faster. I think I could have if I was challenged a little bit more.
"Once I got out front I was able to enjoy the course and the beauty of the park."
Stoltzfug easily held off second place finisher Doug Basinski of Pittsburgh.
"[Stoltzfug] really got quite a bit ahead of me early," said Basinski. "I tried to focus on getting closer to him on the hills, because that is my strength, but then he would pull away again."
Adams, the first woman to cross the line, was more than thrilled to be the top finisher while running her best time ever.
"It was great," Adams said. "There were a lot of hills, and at one time I thought there was a woman ahead of me but I guess not."
Congressman Tim Ryan, who ran in the 10K in 1 hour and six minutes, said the course was quite a challenge.
"I don't usually run, so I'm happy with my time," Ryan said. "The course was very tough. The bridge at the end was Youngstown's version of 'Heartbreak Hill' from the Boston Marathon."
Runners from various ages participated and took home prize money for winning their divisions.
The oldest runner was Lou Lodovico of Ellwood City, PA. The 85-year-old runner, who was a 2010 inductee into the Youngstown Roadrunners Hall of Fame, finished with a time of just over 63 minutes.
His friend, 65-year-old Kip Minnick of Newton Falls, said Lodovico was a world class runner and is still considered one of the best for his age.
Many runners registered and ran as groups including members of the Youngstown State University athletic department. Athletic Director Ron Strollo and basketball coach Jerry Slocum were leading that contingent.
The Boardman Spartans girls soccer team also ran as a group in the two-mile race.