---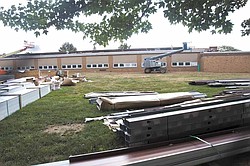 Photo
Construction material lies stacked outside Joshua Dixon Elementary School in Columbiana. Renovations and expansion there are part of a $5.5 million project in the school district.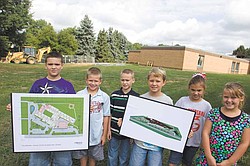 Photo
Third-graders at Joshua Dixon Elementary School in Columbiana display artist renderings of the addition that will be made to the school. From left are Steven Anderson, 8; Eli Strohecker, 8; Mark Siedor, 9; Jack Carney, 8; McKenzie Brooks, 8; and Julia Hum, 9.
By D.A. WILKINSON
COLUMBIANA
Kim Sharshan, principal at Joshua Dixon Elementary School, calls it the "cafe-gym-torium."
The multipurpose room is part lunchroom, gym and auditorium and soon will be no more.
The Columbiana board of education is retooling the school, which was built in 1954 and underwent changes in 1958 and 1968.
Superintendent Don Mook on Thursday showed some of the improvements and changes to the district's facilities.
In the walls of the "cafe-gym- torium" are fold-out tables that Mook said were extremely dangerous to children. They will be permanently sealed into the wall to prevent injuries.
A high block window in the "cafe-gym-torium" had been covered over the years. Now, with the covering removed, Sharshan said, "You can read in here without lights."
The plan calls for construction of a gymnasium on part of the front parking lot. A new front door will allow parents to drop children off at the school. Students who take the bus will be dropped off at the side of the building. There will be a small, landscaped courtyard area between the two extensions.
A piece of plastic with bubbles is part of the entrance at Joshua Dixon. Mook said he could stand on it without slipping. But if it gets wet, it becomes slippery, he said. It will be removed and replaced with a nonskid material.
The school will add new metal roofs that will prevent water damage in the school.
The project also included eliminating drainage problems, the demolition of the old bus garage at Joshua Dixon and the construction of a new garage behind the combined junior and senior high.
The district refinanced its debt to fund the projects. Mook praised district Treasurer Lori Posey for researching the costs.
Mook said the project was estimated to cost about $5 million but is now at about $5.5 million.
Work is expected to be finished next year.