YSU seeks to ensure students' success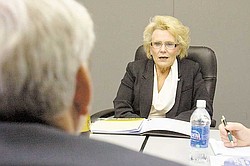 Photo
Cynthia E. Anderson, president of Youngstown State University, discusses some of the plans for her tenure during a Wednesday meeting at The Vindicator.
By Denise Dick
By DENISE DICK
YOUNGSTOWN
As state funding for universities switches from a formula based on enrollment to one that measures graduation rates, Youngstown State University wants to institute more ways to help students succeed.
Previously, universities allowed as many students to pass through the doors as possible to increase enrollment numbers, said Cynthia E. Anderson, YSU president, at a meeting Wednesday with The Vindicator's editorial board, managing editor, publisher and a reporter.
"That was an absurd model," she said. "Not only was it an absurd model, but in my humble opinion, it was an unethical model."
YSU, with enrollment of about 15,000 students this fall, has a graduation rate that hovers at about 38 percent.
"As the admission office, are we prepared to offer [students] a roadmap for success?" Anderson said.
Some students who come through those doors maybe aren't ready for college. Many students require remedial and developmental courses, particularly in math and English, before they may take courses for credit.
One thing that the outcome-based formula doesn't consider, though, is that not all students enroll in college with plans for a degree, Anderson said.
Some just want to take a couple of classes, some are pursuing courses to help secure a promotion at work.
YSU in the last several years hasn't done a good job of finding out what students' goals were when they entered, the president said.
"We weren't gathering such data," she said. "Graduation rates are based on the number of students coming through your door."
Anderson wants to resume that data collection.
Another effort to increase the graduation rate is to offer a more vibrant summer school, she said.
Several years ago, the university conducted exit interviews with students as they left to ascertain why they were leaving. As budgets were cut and people left, though, that went by the wayside.
"We're going to reinstate that," Anderson said.
More like this from vindy.com