Native Americans celebrate Red Hawk tradition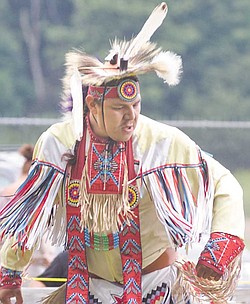 Photo
Blaine Tallchief of Salamanca, N.Y., performing at the Red Hawk Native American Pow Wow at Trumbull County Fairgrounds on Sunday.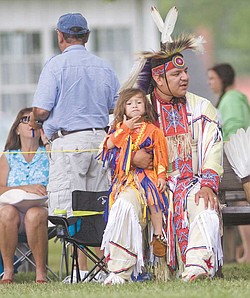 Photo
Blaine Tallchief of Salamanca, N.Y., holds Delsin Tallchief, 2, after performing at the Red Hawk Pow Wow at the Trumbull County Fairgrounds on Sunday.
By JORDAN COHEN
BAZETTA
Dolores Tapia Santha is proud of the Native American tradition that has marked her 85 years of her life, 61 of those as a resident of the Mahoning Valley.
"I am a member of the Seneca Nation, and I'm always happy to talk about our history and traditions," said Santha, dressed in brilliant-blue clothing, a feather protruding from her hair.
Santha, who lives in Missouri, joined other Native Americans for the annual Red Hawk Pow Wow at the Trumbull County Fairgrounds on Sunday. The two-day event celebrated the culture through displays of competitive dancing, food, artifacts and music.
Santha said "it's up to individual preference" about use of the terms Indian and Native American. She said Christopher Columbus first used the name during his initial New World discovery because he was searching for spices and other treasures associated with India.
"People call us Indians just because Columbus got lost," said Santha.
The terms that Blaine Tallchief, 35, of Salamanca, N.Y., prefers is "indigenous" for the people and "nation" instead of the commonly used "tribe." Others expressed similar sentiments.
Tallchief, a competitive Seneca dancer, was dressed in red, yellow and white punctuated by a headband display featuring a bright-red sunburst. He competed in a victory dance. He said performers consider their clothing regalia and not costumes.
"I hope that the powwow brings a hands-on experience for everyone who comes here," said Tallchief, out of breath after his rigorous dance. "It is the only way I think people learn."
Tallchief said he is studying his nation's native language.
The live musical background for all of the dancers emanated from groups of singers playing a large round drum called "Thunder Nation." One of the singers and players, Eden Kail, 44, a Lakota Nation member from Cleveland, said it takes years to learn the language and music.
"We've been playing together for eight years, and we're still learning," Kail said. "It's an ongoing process."
The Red Hawk American Indian Cultural Society, which organizes the annual local powwows, is open to non-native as well as Native Americans. Red Hawk President Darlene Bosela of Coitsville is an example. "I'm non-native," she said.
Bosela said the organization, which formed in 1987, promotes diversity and hopes to interest more young people in Indian heritage. The Red Hawk society is one of several organizations that sponsor powwows throughout the United States each year. Group information and activities are accessible through the website powwows.com.
Bosela said weather held down this year's attendance but not the enthusiasm displayed by the participants.
"You bet we'll be back here next year," she said.