Legal analysts predict long, complex court battle
Oakhill Indictment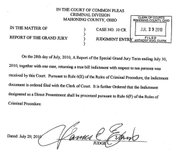 Document
2.3 MB file
In more Oakhill coverage ...
By PETER H. MILLIKEN
milliken@vindy.com
YOUNGSTOWN
Local analysts say a lengthy and complex legal battle looms over the indictment of seven people and three business entities accused of attempting to block Mahoning County's purchase of Oakhill Renaissance Place.
"The stakes couldn't be higher for the players involved," said Atty. David J. Betras.
If they're convicted of any felonies, the law licenses of county Commissioner John A. McNally IV, county Auditor Michael V. Sciortino and Atty. Martin Yavorcik will be in jeopardy, and McNally and Sciortino, both elected Democrats, would lose their county jobs.
"A felony record on a public corruption kind of thing is a death knell to any further career in politics," Betras observed.
"If they're convicted, it's going to be another black eye for the Mahoning Valley," said Atty. Joseph W. Gardner, who does criminal-defense work and was an assistant Youngstown city prosecutor during the 1970s.
"The Cafaro Co. and these guys are like pillars in the community, and it's going to hurt us if they're convicted," he added.
All the defendants – who have pleaded innocent – face possible jail or prison time if they're found guilty.
If the lawyers and public officials are convicted, retired visiting Judge William H. Wolff Jr., 68, of Kettering, would likely hold them to a higher standard than other defendants and count their lawyer and public- official status against them at sentencing, Gardner said.
Betras, a lawyer for 25 years, has tried numerous major felony cases in state and federal courts as a defense lawyer.
Betras and Paul M. Nick, who is now a special prosecutor in the Oakhill case, worked together as special prosecutors to get convictions against then-county Commissioner Frank A. Lordi in 1999.
Lordi resigned as a county commissioner and was sentenced to 18 months in prison after a jury convicted him of theft in office, illegal interest in a public contract and two counts of conflict of interest. He was released from prison after serving eight months.
Today, Betras is Mahoning County Democratic Party chairman, and Nick is chief investigative counsel for the Ohio Ethics Commission.
Nick declined to comment on the legal and evidentiary issues or on his trial strategy in the Oakhill case. Betras said criminal charges against officeholders erode public confidence in government and lead to voter apathy.
"You can't make the place better with an apathetic populace. People have to be engaged," he said.
Indicted July 28 by a Mahoning County grand jury were Anthony M. Cafaro Sr., retired Cafaro Co. president; the company itself and its affiliates, Ohio Valley Mall Co. and Marion Plaza Inc.; Flora Cafaro, sister of Anthony M. Cafaro Sr. and part-owner of the Cafaro Co.; McNally, Sciortino, and Yavorcik; former county Treasurer John B. Reardon; and former county Job and Family Services Director John Zachariah.
Charges contained in the 73-count, 41-page indictment include engaging in a pattern of corrupt activity, conspiracy, bribery, perjury, money laundering, tampering with records, disclosure of confidential information, conflict of interest, filing a false financial disclosure statement and soliciting or accepting improper compensation.
Yavorcik, who ran unsuccessfully for county prosecutor against incumbent Paul J. Gains in 2008, and Flora Cafaro, are charged with only one count each of money laundering. Gains referred the Oakhill matter to the ethics commission for investigation in 2007.
The first pretrial hearing for all Oakhill defendants will be 9 a.m. Sept. 9.
WHAT INDICTMENT ALLEGES
The indictment alleges Anthony Cafaro Sr. and his companies, McNally, Sciortino, Reardon and Zachariah, conspired to prevent or delay the move of the county's Department of Job and Family Services to Oakhill, which is the former Forum Health Southside Medical Center.
The Ohio Valley Mall Co. was the landlord for JFS at Garland Plaza on the city's East Side for 19 years until JFS moved to Oakhill in July 2007.
Ohio Valley's unsuccessful lawsuit to rescind the county's 2006 purchase of Oakhill spawned the investigation that led to the indictment.
With Betras as its lawyer, OVM also filed a breach-of-lease lawsuit concerning Garland Plaza, which the county settled for $913,590.
"They've got a lot to prove," Lewis Katz, a Case Western Reserve University law professor, said of the special prosecutors in the Oakhill criminal case.
They must prove the existence of a conspiracy, the involvement of each defendant in it, and the underlying bribery, perjury and conflict of interest charges, Katz said.
"They have to make sure that their evidence attaches to each of the defendants and that they don't rely on guilt by association," the professor added.
"They have to be sure that the evidence they present is understandable to the jury," which consists of lay people, Katz said. Storyboards, flow charts and other visual aids are helpful to the prosecution "in making the jury understand the wide sweep of the conspiracy" they are alleging, Katz said.
Relaxed rules against hearsay evidence that apply to conspiracy cases give the prosecution an advantage, Betras, Gardner and Katz agreed.
However, in such cases, Katz said the prosecution is at a disadvantage unless at least one defendant pleads guilty to reduced charges and agrees to testify for the prosecution in exchange for the prosecutor's recommendation of leniency.
LENGTHY BILL OF PARTICULARS
Betras said special prosecutors Nick and Dennis P. Will, who is the Lorain County prosecutor, will spell out details of the criminal charges in a bill of particulars, which is likely to be hundreds of pages long.
Nick said the bill of particulars will likely be filed a few days after the Sept. 9 pre-trial hearing if that's what the judge orders.
"It'll be longer than the indictment," Nick said, adding that the bill of particulars will give specifics concerning the alleged offenses, the dates and times of their occurrence and the participants "to the extent that we're required to do so by law."
In addition, before any trials occur, Gardner said the prosecutors will provide the defense with thousands of pages of evidence, known as discovery, which will include documents, financial records and witness lists.
Any trials would last a minimum of three to four weeks each, Betras and Katz said.
Katz said any trials would be lengthy because of the complexity of the case and the large number of witnesses that must be called.
Nick said the trial length is unpredictable and depends on many factors, including the extent of defense-lawyer questioning of witnesses.
Defense lawyers likely will seek to have a separate trial for each defendant, Gardner said, though the prosecutors will likely seek to put all defendants on trial together to avoid having to prepare for, and present evidence in, multiple trials.
"If the prosecution gets strong evidence against one defendant, it's likely to attach to all the other defendants" in a combined trial, Gardner added.
Judges are concerned about the time and expense of trials, so they're reluctant to sever defendants into separate trials unless there is a compelling reason, Katz observed.
If the prosecutors offer the defendants a plea agreement, in which they could plead guilty only to misdemeanor charges and avoid a trial, the defendants would have to seriously consider such an offer, Gardner said.
He added, however, he believes such an offer is unlikely, given the case's high-profile nature.
"I think the public officials are probably going to trial because, if they plead guilty to a felony, they're going to lose their jobs" and law licenses, Gardner said. "Tony Cafaro, well, he's definitely the head defendant, so he's probably going to trial."
One lawyer who said he hopes the Oakhill matter goes to trial is James B. Callen, former president of the now-dormant Citizens League of Greater Youngstown, which campaigned vigorously against corruption in government.
"I'm hoping this is a teaching moment for the community, and I'm hoping that we're able to take advantage of that," Callen said, adding that trials put much more information on the public record than plea agreements.
CENTRAL FOCUS: CONSPIRACY?
The central question in any Oakhill trial will be: "Is there a conspiracy, or were the officials and the Cafaro Co, acting in good faith?" said Gardner, who has tried several large conspiracy cases as a defense lawyer.
Reardon, Sciortino and McNally have repeatedly said publicly that they opposed the county's purchase of Oakhill because they were concerned about the county's operation and maintenance costs for the former hospital.
The defense is likely to emphasize that theme again in any trials, Gardner and Callen said.
Callen said, however, "The indicted public officials seemed to be working as an adjunct to the Cafaro Co., as opposed to operating in their capacity as public officials."
Betras said he believes the Oakhill case will be difficult for the prosecution to prove.
"This is a very defensible case," he added.
"Government officials have a right to be lobbied, and people have a right to lobby government officials," Betras said.
"When does it become a crime? When it's five calls?" he asked rhetorically.
Defense lawyers must ensure "that their clients are not just lumped into a group," Katz said. "They have to raise reasonable doubt on behalf of their clients as to the issues of intent to agree and intent to further the illegal aim of the conspiracy."
Betras said the specification in the indictment, which calls for Anthony Cafaro to forfeit all his shares in his company and the two named affiliates, is "a very high hurdle" for the prosecutors.
"I think the prosecution would have to link all the shares to corrupt activity" to convict Cafaro of the charge, Gardner said.
The special prosecutors don't live in the Mahoning Valley and have primary responsibilities in Columbus and Elyria, Betras added.
He said, however, that the Valley is the home base for many of the defense attorneys. "They're going to be able to burrow in this thing," because of their local presence, he added.
In response, Nick would only say: "We've got a visiting judge that neither side practices in front of on a regular basis."