---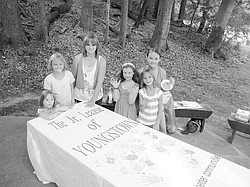 Photo
Daughters of Junior League of Youngstown members took park in a community service project while attending a membership Appreciation Day picnic recently at Mill Creek Park. Proud of their handiwork after leaving a colorful handprint on a banner prepared by the league are in front, from left, Elizabeth Siembida, Grace Aey, Lilly Aey, Ava Wilson, and Emilia Aey, in back, Isabel Aey.
YOUNGSTOWN
"Women Building Better Communities" will continue to be the mission of the Junior League of Youngstown as it prepares for its 81st year of community service in the Mahoning Valley.
That was the message of commitment delivered by Michele Grant of Youngstown as she recently concluded her two terms as president of the league.
In keeping with that commitment, the new president, Anna Aey of Canfield, a community activist, cancer survivor and mother of four daughters, reviewed past events and introduced a calendar of community service activities.
Those recent events included the following: a membership Appreciation Day picnic at Mill Creek Park, where children of members painted a banner with colorful handprints; participation in the Buddywalk on Aug. 14 at Shops at Boardman Park to raise money for children with Down Syndrome; and helping to organize a fundraiser on Aug. 18 at Handel's on South Avenue to raise funds for the JLY 2010 Marketplace Mixer on Oct. 21.
At the mixer three women — one from Beatitude House, one from the Neil Kennedy Center and one chosen by the American Cancer Society — will be recognized for overcoming great obstacles and for becoming an exceptional force in the community. Each will receive a makeover and gift cards.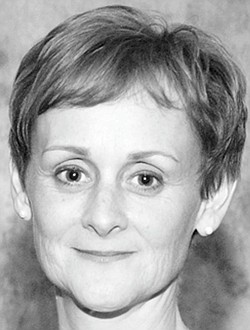 Photo
Serving with Aey during the 2010-11 term will be the following officers: Susan Stewart of Boardman, president-elect; Michele Merkel of Warren, treasurer; and Tara Mady of Poland, recording secretary.
Appointed as chairwomen of committees were: Grant, nominating; Sharon Schroeder of Youngstown, provisional; Leah Wilson of Columbiana, marketing and recruitment; Kelly Kiraly of Boardman, fund development; Liz Skeels of Boardman, assistant treasurer; Kera Thompson of Boardman, training and education; Melissa D'Apolito of Poland, research and development; Keisha Robinson of Boardman, placement; Shanna Laraway of Youngstown, in-league communication; Marion Dunham of Canfield, active liaisons: Pink Ribbon Tea; and Joanne Nohra Wagner of Warren, mother/daughter brunch.
For more information on JLY and its community projects, contact 330-743-3200 or e-mail info@jlyoungstown.org.
VOLUNTEER OPPORTUNITIES
Sept. 14: Take items for school store at Harding Elementary
Sept. 21: Provisional training — Developing the Potential of Women
October: Pink Ribbon Tea
October: Collect used items for Fish Samaritan House
Oct. 21: "It's a Wonderful Life" Marketplace Mixer at the Holiday Inn, Boardman, where three women will be honored
Oct. 24: Youngstown Peace Race
Nov. 17: Provisional training — Improving Our Communities
November: Fleming House Christmas Party
Nov. 27: Mother-Daughter Brunch
December: Art Outreach Gallery
Jan. 11: Donate items to Christina Center
Feb. 8: General membership meeting — Ballet Western Reserve, Youngstown
February: Junior Achievement of Mahoning Valley
Feb. 15: Provisional training — Kids in the Kitchen Planning
March 6: Dress for Success
March 8: General membership meeting — Second Harvest Food Bank
April 19-20: Second Harvest Food Bank