Girard goes high-tech with new junior/senior high school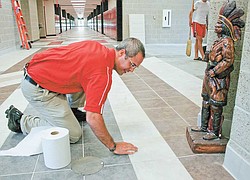 Photo
William Ryser, senior high principal at the new Girard Junior/Senior High School, pitches in to clean the fl oor after an inadvertent spill as a statue of an Indian, the Girard mascot, "oversees." Ryser said he thinks the new building will inspire students and the sleek surroundings will enhance learning.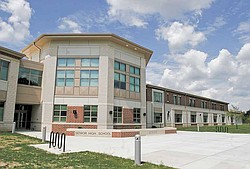 Photo
A distinctive architectural shape highlights the front of the new junior/senior high school, 1244 Shannon Road.
By LINDA M. LINONIS
linonis@vindy.com
GIRARD
Joseph Jeswald, Girard schools superintendent, described the new $26 million junior/senior high school as a "21st-century learning center."
It will equip students with the necessary skills to compete in the evolving high-tech world and "give them the opportunity for success in the global economy," he said.
Students will have access to state-of-the-art technology including four computer labs and some 260 new computers. Each teacher has a computer.
Jeswald said the science, technology, engineering and mathematics program especially taps into computer technology, and 12th-graders will do senior projects using computers.
"Critical thinking, creativity, innovative, research, communication skills and teamwork will all benefit," Jeswald said.
William Ryser, high school principal, said the "space to learn" in itself will inspire students.
"I think they will be holding their heads up high," he said. Sleek surroundings will enhance learning, he added.
In regular classrooms, there are some 30 SMART Boards connected to teachers' computers. Ted Ragan, computer-technology specialist, said the interactive-teaching devices are a benefit to teaching in that they save and display presentations created by teachers and link to the Internet. "It's a nice teaching tool," he said.
He also noted classroom media centers include DVDs, VCRs and SMART Boards that can "stream live from the Internet."
"It's like having a theater in each room," Ragan said, noting this educational technology engages students.
When school starts Sept. 7, students and teachers will walk spacious halls and sit in roomy classrooms. The air-conditioned school has two wings, one for the high school students numbering about 520 in ninth through 12th grades and, and the other for junior high, about 250 students in seventh and eighth grades.
On the first floor is the home of administrative offices. "This is a better setup," Jeswald said. In the old building, offices for Ryser and Louise Mason, junior high principal, were in different areas. Access to the school interior will be controlled here.
On the second floor is the media center (library), where books on shelves share space with computers.
In the classroom area, a biology and anatomy lab share a storage space with the chemistry and physics lab.
The production lab for construction-tech prep, robotics and other hands-on applications is well-equipped with such tools as a table saw, lathe and drill press.
As part of the energy-efficient design, lights turn on automatically when someone enters and turn off when the room is unoccupied.
There are a number of aesthetic touches such as the use of red and black, school colors, throughout the building. The senior high has black lockers, and the junior high's are red.
Other features include a 300-seat student dining room that can double as an auditorium, specially equipped classrooms for special-needs students, wrestling room and high school gym with seating for 1,300 and junior high gym with seating for about 400. The past is preserved in display cases with trophies, plaques and awards.
A committee of community residents contributed ideas for the school to the administration, who worked with architects on the design.
---
GIRARD JUNIOR/SENIOR HIGH SCHOOL
An open house is scheduled at the new Girard Junior/Senior High School, 1244 Shannon Road, from 1 to 4 p.m. Sept. 4. Joseph Jeswald, Girard superintendent, said they hope to preserve the concrete sign at the top of the old building that says "Girard" and use it at the new school.
Cost: Cost of the new school is $26 million. The Ohio School Facilities Commission is paying for 80 percent of the cost, and a local loan covers the remainder. The old high school was built in 1924.
Space: 130,000 square feet in the two-story building on 25 acres.
Classrooms: 47. Regular classrooms are 810 square feet; labs, 1,100 square feet.
Computers: There are four computer labs and about 260 new computers.
Special features: Thirty SMART Boards, interactive-teaching devices connected to a computer; cafeteria that doubles as an auditorium with stage and seating for 300; two gyms, one for junior high and another for senior high; 330 parking spaces; and security cameras inside and out.
Source: Superintendent's office