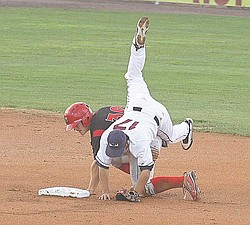 Photo
Kevin Fontanez (17) of the Scrappers gets upended by Christopher Edmonson of the Batavia Muckdogs during Wednesday's game at Eastwood Field in Niles. The Scrappers won 4-2.
Roster changes: The Scrappers made a couple of additions to their roster this week. They signed 23rd round draft pick Tony Dischler a right handed pitcher out of Louisiana State University on Wednesday. They also were assigned outfield Trent Baker from the Lake County Captains. Baker was a non-drafted free agent in 2009 from Brisbane, Australia.
Bring the cans: The Mahoning Valley Scrappers and the Novelis Corporation will host an aluminum can drive on Friday night at Eastwood Field. Scrappers fans bringing three aluminum cans to the Novelis truck outside of Eastwood Field's main gates receive a half-price box seat ticket voucher for the game against Batavia. The game begins at 7:05 p.m. For more information, contact the Scrappers at 330-505-0000.
No league leaders: The Scrappers don't have a player or pitcher ranked among the top 10 in the New York-Penn League. The main reasons are the fact that the Scrappers rank next to last in the 14-team league in hitting and 11th out of 14 teams in pitching. Mahoning Valley is only one percentage point from being in last place in team hitting with a .236 combined batting average. Connecticut is in last place at .235. The Scrappers do have one player who leads a league statistical category. Pitcher Jordon Cooper leads the league in home runs allowed this year with eight.
Pete Mollica
By PETE MOLLICA
NILES
Mahoning Valley Scrappers manager Travis Fryman says his ball club is playing much better right now in the season and Wednesday night's effort was a prime example.
The Scrappers (25-33) struggled through the first five innings against the Batavia Muckdogs before Diego Seastrunk's three-run homer in the sixth gave them a lead they would not relinquish en route to a 4-2 win before 4,232 fans at Eastwood Field.
"We've been playing much better of late, especially for a full nine innings," said Fryman. "We've won four of our last five series and we've been getting some timely hitting."
"Diego came through with a big hit tonight and we had some good pitching," Fryman added. "I wasn't too pleased with our at-bats against their starting pitcher, though.
Michael Rayl (1-4) picked up his first victory of the year, allowing just four hits over the first six innings and only had trouble in the second inning when the Muckdogs scored both of their runs on two hits, a sacrifice and a walk.
Trailing 2-0 going into the sixth, with Seastrunk at bat, Fryman said he thought about calling for a bunt.
"I definitely gave it a good thought, but I really haven't called on Diego to bunt much this year," he said. "If if had been earlier or later in the game I would have definitely bunted him, but in the sixth inning I felt I'd let him hit.
Seastrunk was also thinking bunt.
"I was sure that he was going to have me bunt when I got up there," Seastrunk said. "I was surprised when he didn't. I was still just trying to move the runners up when he gave me that pitch."
Seastrunk lauded the effort of Rayle.
"He pitched a great game, was always around the plate and had great stuff tonight," he added. "We've been playing very well lately, getting some big hits and some good pitching. We just have to keep it going from here on out."
Seastrunk's homer landed in the Scrappers bullpen to give them a 3-2 lead and then they also added another run in the eighth and Seastrunk played a role in that run.
With two outs the rookie catcher from Channelview, Texas, and Rice Unversity, ripped a deep shot into left-center field, which was miss played by the two outfielders and Seastrunk ended up on second base. Brian Heere then followed with a double down the left field line to score Seastrunk.
The Scrappers also played sound defense, highlighted by four double plays.
"Double plays are a pitcher's life saver," added Fryman.
Mahoning Valley finished with six hits on the night with leadoff hitter Carlos Moncrief getting two of them.
Batavia (31-25) also finished with six hits led by catcher Juan Castillo with two, while Vic Sanchez added a double and Adam Melker drove in both runs with a single.