State-prison fair offers soon-to-be-released inmates resources for life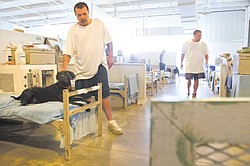 Photo
William Harrison of Youngstown, an inmate at the Ohio State Penitentiary's prison camp for low-level off enders, pets Sierra, a rescued dog trained by camp inmates to obey simple commands while the canine-rescue organization WAGS seeks new homes for the animals. The prison had its annual community resource fair Tuesday to show inmates what services are available to them after they are released.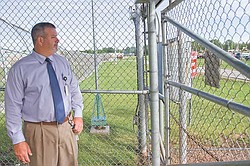 Photo
The man in charge of the state's maximum-security prison on state Route 616 in Youngstown is Warden David Bobby.
OHIO STATE PENITENTIARY
Facts, figures
Some statistics from the penitentiary located off state Route 616 in Youngstown:
504: Total cells
534: Total inmates, including an on-site prison camp.
130: Inmates on death row.
104: Inmates in maximum security.
Fast fact: Only state prison to house a level-5 maximum-security unit.
Source: Ohio Department of Rehabilitation and Correction
By JOHN W. GOODWIN JR.
YOUNGSTOWN
Those in charge of running the Ohio State Penitentiary here want the facility to not only be about punishment and incarceration but also rehabilitation — especially for those about to be released back into society.
The prison on Coitsville-Hubbard Road (state Route 616) houses 534 inmates from across the state in a facility with 504 cells and a prison camp with dormitory-like open sleeping quarters for low-level offenders.
The prison also houses the majority of the state's death-row inmates and is the only facility to house level-5 inmates, the most-dangerous level in the state.
Henry Scott Jr., a representative of the Center for Community Empowerment, a faith-based social-service agency, spent several hours in a meeting room on the campgrounds to the rear of the main prison building speaking to dozens of low- level inmates on the verge of leaving prison about center programs and support groups available to recently released inmates.
The Center for Community Empowerment, along with two dozen other schools and programs providing services to released inmates, came to the prison Tuesday as part of an annual community resource fair.
Lannon Austin, 20, of Canton has been incarcerated at the facility for more than 18 months for possession of cocaine and has roughly a year left before he is to be released, but the support groups and programs on display during the resource fair are exactly what he wants to make use of upon his release.
Austin spent time speaking with Scott and representatives from the Ohio Adult Parole Authority about support groups and job development.
"I have a year left to go, but any resources I can get are helpful," he said. "For someone with a felony like me, it's just not a lot out there, so any help I can get I need to come get it."
Austin wants to return to school upon his release from prison, but he also plans to attend those weekly support meetings offered by The Center for Community Empowerment.
Others organizations participating in the rehabilitation fair were the Voting Rights Institute, Salvation Army, Incarcerated Veterans Organization, National College, Trumbull One-Stop, child-support enforcement, Greater Youngstown Point and a list of support services offered by the prison.
Ann Block, a representative from the Ohio Secretary of State's office, was on hand to make sure most inmates know they can still vote once released from prison.
"This is very important that all inmates know they can restore their rights to vote once they are no longer incarcerated," she said.
JoAnn Parker, assistant to the warden, said the programs offered during the fair are a service to not only the inmates but to the community at large. "We want to give the inmates the information that will help them out for when they are released back into society," she said.
Warren Wright, 31, of Youngstown, who has been incarcerated at the prison for two years, spent the afternoon collecting information at the fair because he is due to be released from the facility in about 30 days. He said the programs will help him get a fresh start.
"I need that when I am getting out of prison," he said. "I need to find a job when I get out next month."
Prison Warden David Bobby said the discipline cannot be the only emphasis when most of the inmates will someday be released to live in neighborhoods and communities across the state.
"We have a responsibility as employees here to try and make sure these guys are better off when they leave here than when they came in here," Bobby said. "It's important that they go out with something."