Oakhill judge knows next to nothing about case
The Oakhill 7 Booked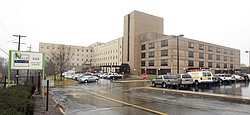 Video
Six of the Seven indicted people have been processed at the Mahoning County jail on charges related to the purchase of the former Forum Health Southside Medical Center on Oak Hill Avenue.
By DAVID SKOLNICK
YOUNGSTOWN
The visiting judge presiding over the criminal case related to Mahoning County's purchase of Oakhill Renaissance Place said he knows next to nothing about it.
"I'm venturing into a county where I don't know anybody," William H. Wolff Jr., a retired judge appointed by the Ohio Supreme Court to oversee this case, told The Vindicator on Friday.
"I haven't seen the indictment," he added. "I really don't" know anything about the case except "I know the names of some of the players."
Between now and a Sept. 9 pretrial conference that Judge Wolff scheduled with attorneys on the case, he expects to get caught up.
At that hearing, Judge Wolff said he plans to establish a time line for court filings related to the case.
"I have no idea what is in store as far as the trial," he said Friday.
All five of Mahoning County's criminal common pleas court judges recused themselves from the case.
The indictment accuses the seven people and three companies of illegally allowing private interests to unsuccessfully block and postpone the county's purchase of Oakhill.
Those charged are: county Commissioner John A. McNally IV; county Auditor Michael V. Sciortino; Anthony M. Cafaro Sr., the recently retired president of the Cafaro Co.; Flora Cafaro, part owner of the Cafaro Co.; ex-county Treasurer John Reardon; Atty. Martin Yavorcik; and John Zachariah, former county Job and Family Services director.
Also charged are the Cafaro Co. and two of its subsidiaries: the Ohio Valley Mall and the Marion Plaza.
The charges filed against the defendants are engaging in a pattern of corrupt activity, conspiracy, perjury, bribery, money laundering, tampering with records, conflict of interest, tampering with records, disclosure of confidential information, filing false financial disclosure statements, and soliciting or accepting improper compensation.
Reardon reported Friday to the county jail to be fingerprinted and take a criminal mug shot.
Before going inside the jail, Reardon said, "I'm charged with here, obviously, very serious crimes that I did not commit and that's the truth. ... I am very confident and I have faith that ultimately there will be a positive outcome and the truth will prevail."
Louis DeFabio, Reardon's attorney, said his client — and others indicted — objected to the 2007 relocation of the JFS office from the Cafaro-owned Garland Plaza to Oakhill because it was a bad decision for the county.
"When, not only the jury, but the public hears the evidence they'll be convinced that John was right from the get-go," DeFabio said. "Oakhill was a bad project."
All of the other defendants, except Zachariah, were booked earlier this week. Zachariah is out of the country till the end of the month.
As for Judge Wolff's appointment, he said Ohio Supreme Court officials contacted him Thursday about serving as visiting judge on this case.
Judge Wolff, 68, of Kettering, retired Jan. 31, 2009, from the Dayton-based 2nd District Ohio Court of Appeals after serving on it for 24 years.
Prior to that, he spent eight years as a Montgomery County Common Pleas Court judge and one-and-a-half years as a Dayton Municipal Court judge.
"I enjoy the trial bench," Judge Wolff said. "When I left the court of appeals, I said [to the supreme court] that I'd be willing to handle trials and travel throughout the state."
This will be the furthest the judge has traveled to serve as a visiting judge.
Judge Wolff said a check of Google Maps online shows the trip is 41/2 hours from Kettering to Youngstown.
Judge Wolff's highest-profile case as a visiting judge involved ex-Athens County Democratic Party Chairwoman Susan Gwinn.
Gwinn was indicted on eight criminal counts accusing her of attempting to conceal who she received $27,000 from in her failed 2008 bid for Athens County prosecutor.
The judge dropped bribery charges during a bench trial late last year, then acquitted Gwinn of theft-in-office charges and found her guilty in March of two misdemeanor counts of having falsified campaign finance reports, according to the Athens News.
Judge Wolff fined her $1,000, ignoring a request by Delaware County Prosecutor Dave Yost — appointed as special prosecutor in this case and is also the Republican candidate for state auditor — to sentence Gwinn to jail, the newspaper reported.