Scrappers beat Tri-City on sacrifice fly in ninth inning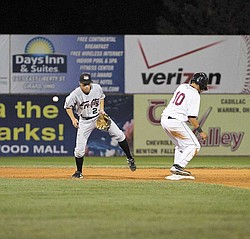 Photo
Mahoning Valley baserunner Giovanny Urshela (10) successfully steals second base as Tri-City's Ben Orloff (2) bobbles the throw during the ninth inning of Thursday's game at Eastwood Field in Niles. Urshela eventually arrived safely at home on a sacrifice fly to give the Scrappers a 3-2 win over the Valley Cats.
By JON MOFFETT
NILES
A sacrifice fly in the bottom of the ninth inning gave the Mahoning Valley Scrappers a walk-off victory, and their second straight win.
With runners on first and third and one out, catcher Diego Seastrunk hit a fly ball to deep center field. The ball was caught by Daniel Adamson, but it gave Giovanny Urshela plenty of time to cross home plate for the 3-2 win over the Tri-City Valley Cats at Eastwood Field on Thursday.
"You take the good times, or the good games when you get them because they've been few and far between," manager Travis Fryman said.
The Scrappers (18-29) fell behind after Tyler Burnett scored on a Michael Kvasnicka single off of Alex Kaminsky. The Scrappers went ahead with two runs in the fifth.
The first run came off the bat of Chase Burnette, who hit two home runs Wednesday. He followed with another shot to right field.
The second run came when Seastrunk scored on Kevin Rucker's sacrifice fly.
Kaminsky had another strong performance. He went five innings and allowed only three hits. He didn't walk a batter and struck out five.
Julio Ramirez picked up his first win of the season with two hitless innings to end the game.
Fryman said the energy contributed by a crowd of more than 4,500 helped the team's morale.
The Scrappers will finish the series with the Valley Cats tonight at 7:05 p.m.