---
Jersey Demolition Night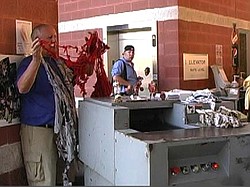 Video
Gary Bosley and Matt Leposa of Protect-n-Shred of Boardman helped Cavs fans destroy their LeBron James Memorabilia during a Jersey Demolition Promotion at the Mahoning Valley Scrappers game against Tri-City on Thursday, August 5, 2010. A post-game bonfire was not held because of rain.

Photo
From left, Matt LePosa of Protect & Shred; Gracie Beish, 24, and Bill Botch, 24, both of Boardman; and Gary Bosley of Protect & Shred gather LeBron James Cleveland Cavaliers apparel before Thursday night's Mahoning Valley Scrappers game at Eastwood Field in Niles. Fans who brought James apparel to shred gained free admission for the game against the Tri-City Valley Cats.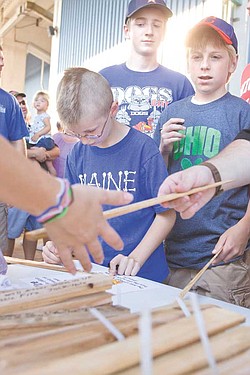 Photo
Robbie Seitz, 9, left, his brother, Jonathan Seitz, 15, and Curtis Stanich, 14, all of Poland, wait as Robbie writes a message on a piece of wood for the "LeBronfi re" that was planned for after the game but postponed because of rain.
By JON MOFFETT
jmoffett@vindy.com
NILES
Dan Robeson can think of a choice word to call LeBron James, but it certainly isn't MVP.
James left the hearts of Cleveland Cavaliers fans tattered and torn with his announcement to leave the team for the Miami Heat. But those fans had a chance to return the favor at Eastwood Field Thursday night.
The Mahoning Valley Scrappers had a Jersey Demolition Night promotion for their game against the Tri-City Valley Cats. Any fan who brought a piece of James apparel or memorabilia was given a free ticket. The items were then shredded and discarded.
There also was some soothing relief for the fans who felt burned by James' retreat to the Heat.
In lieu of burning the articles as planned, fans wrote messages to James on slits of wood. The wood was to be burned in a ceremonial
"LeBronfire" on the infield after the game, but that was postponed to Monday because of rain. Fans can get in free on Monday by presenting their ticket stub from Thursday's game.
Scrappers employees wore T-shirts with "traitor" on the back. Mascot Scrappy even got in on the action, tackling a James impostor at one point.
General Manager Dave Smith said the team had planned to burn the jerseys in the fire. But the local chapter of the Environmental Protection Agency frowned upon the idea. The shredding, Smith said, was just as effective a message.
The event got "well over 100" pieces, Smith said.
Robeson, 49, of Warren, had a special message of his own for LeBron while depositing two No. 23 jerseys for the shredder.
"I think we're all frustrated and disappointed with him, especially with the word
'loyalty' tattooed on his arm," Robeson said. "He's not loyal to the city, and he's definitely not loyal to the team. ... He's only loyal to himself."
James announced his intentions to play with Dwyane Wade and Chris Bosh in Miami on a nationally televised program on ESPN last month. Tagged "The Decision," the one-hour prime-time special was regarded by many fans as a slap in the face of Cleveland.
"I didn't have a problem with him leaving. ... But the way he did it, on national television, and the way he handled it was pretty [wrong]," said Jeff Kun, 24, of Boardman.
The Scrappers' big decision was a direct correlation to another promotion, Smith said.
"We had a promotion on July 1 that was a 'Stay in Cleveland' rally and invited all the fans out, gave out 1,000 rally towels and basically encouraged fans to come out and show their support for LeBron," Smith said. "Obviously we know how that turned out. ... It's not a secret that he ruffled a lot of feathers."
Those same rally towels were good for free admission, too. And Kun was glad to donate some of his gear from that night.
Kun and several others were at Eastwood Field when "The Decision" was made. The reaction, to say the least, was not pleasant.
"This makes me almost want to be a Kobe [Bryant] fan now," he said.
Elisha Sardich, 25, of Cortland took her frustrations to the wood. And though her message wasn't PG, she said her goodbyes.
She said she too was disappointed with "The Decision" and not necessarily "The Choice."
"The way he said it — it was just wrong," she said. "When [Zydrunas Ilgauskas] left, he did it in a classy way. When CC [Sabathia] was traded, he was classy about it. I just think LeBron is fake."
Call him LeBum, LeGone or LeBurn, it's all the same. Smith just wants to call him over with.
"The promotion is all in good fun," Smith said. "It's just an opportunity to put some closure on this chapter for the Cavaliers and have some fun with it."