Reardon slated to appear for booking; Lawyer: Cafaro Sr. will be vindicated
YOUNGSTOWN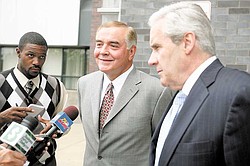 Photo
Anthony M. Cafaro Sr., left, the recently retired president of the Cafaro Co., and his attorney J. Alan Johnson talk to reporters outside the Mahoning County jail shortly after Cafaro went through the booking process. Both men said Cafaro is innocent of any charges and will fight to clear his name.
Oakhill Indictment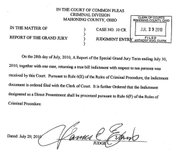 Document
2.3 MB file
In more Oakhill coverage ...
Former Mahoning County Treasurer John Reardon is expected to appear at county jail for booking today for his alleged role in the Oakhill Renaissance Place probe.
Reardon, upon reporting for the booking process, will be the sixth person processed at the jail out of seven people indicted on charges related to the purchase of the former Forum Health Southside Medical Center on Oak Hill Avenue.
Reardon was ordered by Judge Lou D'Apolito of Mahoning County Common Pleas Court to appear at the jail by 1:30 p.m. today. He is charged with taking bribes from the Cafaro Co. and/or its subsidiaries, and conflict of interest in the purchase of the building. He also faces perjury charges.
Anthony M. Cafaro Sr., the recently retired president of the Cafaro Co., was booked at the county jail Thursday morning on charges of engaging in a pattern of corrupt activity, conspiracy, perjury, bribery and money laundering.
Cafaro, accompanied by his attorney, J. Alan Johnson, appeared at the jail shortly after 9 a.m. for the booking process. Cafaro had been ordered to appear for booking Thursday.
Johnson, speaking on behalf of Cafaro, called the charges filed against his client politically motivated and said he is certain Cafaro will be vindicated.
"I am completely convinced of his innocence. He has pleaded not guilty, will go to trial and will be found not guilty," Johnson added.
Cafaro said he is innocent of the charges and certain that the others named in the 73-count indictment will be vindicated.
"I know for sure, with certainty, that I am not guilty of these charges, and I believe the others indicted are innocent of these charges," Cafaro said from the steps of the jail shortly after being processed.
Others charged are county Commissioner John A. McNally IV; county Auditor Michael V. Sciortino; Flora Cafaro, part owner of the Cafaro Co.; attorney Martin Yavorcik; and John Zachariah, former county Job and Family Services director.
Despite the recent indictment of one of his co-workers, county Commissioner Anthony T. Traficanti said he is determined to continue addressing what he feels is best to move the county forward.
"It's very sad for our area," Traficanti said after Thursday's commissioners' meeting, referring to the indictment, which includes seven charges against McNally. "[Nevertheless], I'm focused on continuing to run Mahoning County like I always have."
McNally took part in Thursday's session and left shortly afterward without speaking to reporters.
Traficanti, chairman of the commissioners, said his priorities include controlling the county's expenditures, having the county jail operate with full staffing, recalling laid-off deputies and seeking federal and state funding for various infrastructure projects.
The 2010 county general-fund budget is between $50 million and $51 million, compared with a budget of more than $60 million in 2008, he pointed out. Certain concessions need to remain, and county departments must continue to make various sacrifices, the commissioner noted.
Traficanti said he remains "110 percent" in favor of the commissioners' decision to move the county's Department of Job and Family Services from the Cafaro-owned Garland Plaza, on the city's East Side, to Oakhill. The department moved there in 2007. Traficanti and Commissioner David Ludt supported the move.
The Mahoning County Green Team and the county Board of Elections are among the entities to move to Oakhill, he said.
Traficanti refused to comment on Sciortino's contention that the charges were politically motivated.
Contributing to this report was Sean Barron, Vindicator correspondent.