Ex-cop gets three years of probation
By Jeanne Starmack
YOUNGSTOWN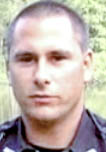 Photo
A former police officer who is convicted of stalking two women while on duty was sentenced Thursday to three years' probation.
Jeff Christy, who worked part time for Lowellville and also was a reserve officer for Milton Township, was sentenced on two counts of menacing by stalking. One is a fourth-degree felony and the other a first-degree misdemeanor. He pleaded guilty to the charges in June.
A charge of gross sexual imposition regarding one of the victims was dropped.
Mahoning County Common Pleas Judge R. Scott Krichbaum also sentenced Christy, 31, of Niles, to a day- reporting program at CCA. He will have to report every day for six to eight months. He also must undergo random drug testing, and he cannot carry a firearm. He must pay the costs of prosecution, and he cannot have any contact with the victims in his case.
He can never be a police officer again.
If Christy violates his probation, he can go to prison for 18 months, which would be the maximum sentence for his crimes.
Christy's victims, a Beloit woman and a Milton Township woman, did not attend the sentencing. Assistant county prosecutor Gabe Wildman told Judge Krichbaum he was certain the victims approve of the sentencing terms.
Before sentencing, Christy's lawyer Anthony Meranto complained to Krichbaum that his client "was tried in the media." He said that one of the victims who spoke to the press made statements she was "horrified" and "mortified." Those words did not appear in her statement to police, he said.
That woman told The Vindicator that Christy had pulled her over eight to 10 times over a six-month period while she drove through Milton Township. On one of those stops, she said, he grabbed her by the neck and kissed her.
On one other occasion, he followed her almost the whole way to her home in Boardman, she said. She said he made lewd comments, including asking her about "friends with benefits."
A police report on file in Milton Township detailed the woman's complaints, and Milton Township's investigation led to Christy's arrest. He was indicted March 31.
Meranto told Krichbaum that Christy was a vulnerable target because he was a police officer.
Meranto said Christy had never been convicted of a crime before and that he pleaded guilty because of uncertainty about his chances with a jury.
Christy told Krichbaum he was sorry if his actions while he was a police officer were misinterpreted.
"How do you talk about misinterpretation when someone says you reached into the car, grabbed her neck and kissed her?" Krichbaum asked.
"I don't have an answer for that," Christy replied.
Christy said he's come to terms with never being a police officer again. He said he is trying to move on for his wife and children, and he is trying to get a job.
Krichbaum told Christy that because he was in a position of authority, there was a higher degree of scrutiny into his behavior.
"But that's absolutely appropriate," Krichbaum said. "We're supposed to be above these things."
Krichbaum also said, though, that he was considering what Christy lost — the job he wanted. "You have been punished to a certain extent."
Krichbaum also said he considered that Christy can't repeat his offenses because he won't be a police officer.
Christy worked in Milton Township from January 2008 to July 2009. He left the township during the investigation, police there said.
He worked in Lowellville for two years before being placed on unpaid leave after his indictment.
Lowellville police took a complaint in February 2009 from two teenagers there about sexual overtures from Christy. No charges resulted after an investigation.