By LINDA M. LINONIS
linonis@vindy.com
GIRARD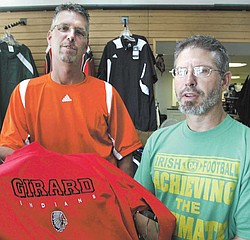 Photo
Jeff Kay, left, general manager of Knightline Embroidery and Screen Print, 16 W. Liberty St. in Girard, is president of the Girard Chamber of Commerce, and Patrick Rubinic is Knightline owner and chamber secretary. Kay and Rubinic keep the chamber going as a social organization.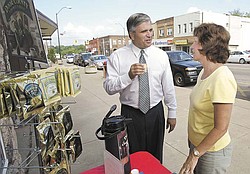 Photo
Girard Mayor James Melfi samples a specialty coffee as he chats with Peggy Magill, owner of Cards Candles and Collectibles on West Liberty Street in Girard. The mayor said specialty stores in the city have filled a niche and are weathering a tough economy.
For businesses to survive and thrive, they must evolve to meet customers' needs or fill a specialty niche.
That's what businesses in the central business district here have done, said Mayor James Melfi, who has been in office since 2000 and is a lifelong city resident. He said Girard businesses have mirrored the trend in bigger downtowns. Department stores that try to cater to everyone don't make it anymore.
"The McKelvey and Strouss [department] stores of downtown Youngstown ... we've seen their demise," he said.
Melfi said older Girard residents will remember Sakas, clothing store; Charles Shop, women's and men's clothing; and Imperial Shoes. "In smaller towns, clothing and shoe retailers find it hard to compete with mall stores," he said. Most of those stores have been closed at least two decades or more.
But just because one kind of business has evaporated doesn't mean another can't succeed.
"Speciality stores are doing well," Melfi said. "We have a lively downtown. ... We're fortunate."
Melfi said downtown stretches along North and South State streets and West Liberty Street. There are other businesses along other side streets and others just outside of the corridor from Interstate 80 to Church Hill Road.
Having a solid business district such as Girard's benefits the city in various ways, Melfi said. "Employees pay a 2 percent wage tax," he said, and that goes to the city's treasury. But, he said, speciality businesses draw people into the city and then they may stop at a restaurant or visit another store.
The St. Rose Church Festival in July and the upcoming car show and parade Aug. 14 are other events that attract city residents and out-of-towners downtown. In addition to providing potential customers for local businesses, "these events raise the profile of the city," the mayor added.
For such events, the city offers its parking lot across from the city administration building at 100 N. Market St., for free. "It's only a block from downtown and has proved to be helpful," he said.
Melfi said a mix of businesses has found a home in Girard. They include restaurants, bars that have a half-and-half combination of spirits and food, and medical, law and insurance offices. A host of specialty businesses providing a specific product or service include bail bonding, banking, construction, hair styling, landscaping, pest control, paving, floral, photography, real estate, pet grooming, tailoring and tanning.
"It all keeps life rejuvenated downtown," he observed. "There is space available, and new businesses are a welcome addition."
Among chain stores that made $1 million investments in stores in the city are Rite Aid and Family Video. (Visit the city's website at www.cityofgirard.com to see a list of city businesses and other information.)
Melfi also said churches downtown — St. Rose, Girard United Methodist, First Baptist and Friendship Baptist — provide an element of stability. People coming and going from the churches also may patronize local businesses.
Melfi said businesses, churches and the city administration building "anchor the neighborhood" because the buildings are maintained and are aesthetically pleasing.
Adding to the appearance of a well-kept city are the new sidewalks on the east side of U.S. Route 422 between Morris and Church Hill and as far east as Ward, the widened Route 422, decorative streetlights between Church Hill and Morris and planted flower urns.
Jeff Kay, general manager of Knightline Embroidery and Screen Print, 16 W. Liberty St., and president of Girard Chamber of Commerce, said he and Patrick Rubinic, Knightline owner and chamber secretary, keep the chamber going "as a social organization."
The all-volunteer chamber sponsors a visit by Santa Claus and bought Christmas lights used on Route 422 and Liberty Street.
"Girard is a family town. We want to give our customers good deals, a good product and good service," Kay said.
From a chamber point of view, Kay said that kind of service and attention to customers, which many family-owned businesses in the city take pride in, is appreciated. "We know most of our customers," Kay said. "Ninety percent are repeat customers." The business also has a good relationship with sports teams and coaches in the area, Kay added.