All eyes under center as YSU fall camp begins
By JOE SCALZO

Photo
Prospective quarterback Kurt Hess (14)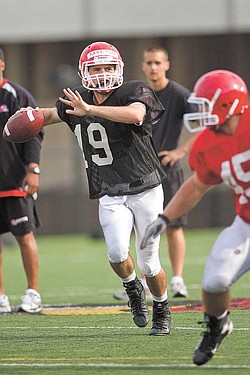 Photo
Prospective quarterback Marc Kanetsky (19)
YOUNGSTOWN
"Sure, luck means a lot in football. Not having a good quarterback is bad luck."
— Don Shula
YSU football coach Eric Wolford entered spring camp with four quarterbacks on the roster with a combined two games of college football experience.
Since then, one quit (Meiko Locksley), one transferred in (Najee Tyler) and another enrolled after graduating from high school (Patrick Angle).
Now he has five quarterbacks ... with a combined two games of college football experience.
"I'll sign 10 if I have to," said Wolford, who also has a verbal commitment at the position from the Class of 2011. "We're gonna have a quarterback. It's the most important position on the football field.
"Your quarterback will make or break you."
Redshirt freshman Kurt Hess finished spring camp with a slight edge over junior Marc Kanetsky, with redshirt freshman Gannon Hulea holding the No. 3 spot.
The early guess is Hess and Tyler will battle for the top spot when fall camp opens today but Wolford is in no hurry to name a starter right away. Wolford said he'd like to have a starter in place by Aug. 21 — two weeks before the season opener at Penn State.
"We've got competition here," Wolford said. "We're going to put these guys in a bunch of situations in camp and hopefully one will rise to the top and show that he's the guy who can lead this football team."
Here's a breakdown of the candidates, with the early odds of earning the job:
Tyler (2-1)
After redshirting as a freshman last fall at Purdue, the 6-foot-5, 240-pound Brooklyn, N.Y., native transferred to YSU in June.
A Terrelle Pryor clone, he's the most physically gifted quarterback on the roster.
"We're not going to deem him the savior," Wolford said. "He's gonna earn his way. And if you come in here and earn your way, it's going to be that much easier for you in this transition of being a new player in this program.
"I think he's done a good job of handling it the right way. He's obviously a talented guy."
Hess (5-1)
Although he shared reps almost equally with Kanetsky in the spring, Hess (6-3, 220) started with the first team in the spring game. (The two quarterbacks alternated back and forth after the first few series.)
Wolford has made it clear if two players are equal, he'll go with the younger player since he'll be around longer. Hess has the advantage of having learned the spread offense in the spring but he's not as mobile as Tyler.
"He had a good spring and did some good things," Wolford said. "He had a great summer. He's a young kid who has a lot of talent. But he's inexperienced."
Kanetsky (10-1)
The only QB on the roster with any experience, the Hubbard High graduate started the final game of last season and led YSU to a touchdown. Although he's technically played five games at QB in his career, he's only thrown passes in two.
For his career, Kanetsky is 7 of 15 for 65 yards with a TD and is also the team's holder on kicks. But at 6-0, 185, he's the smallest QB on the roster.
"He's kind of the guy who's maybe always been the underdog his whole life but he always finds a way to get the job done," said Wolford. "He had a great summer."
Angle (20-1)
After a record-setting career at Logan High that saw him earn Division II offensive player of the year honors last fall, Angle (6-2, 210) has the talent to make a run for the job. But it seems unlikely a true freshman can unseat the three guys ahead of him in just a month.
"Physically, he looks as good as anybody," Wolford said.
Hulea (50-1)
The Poland High graduate will enter camp looking to hold on to his No. 3 spot on the depth chart and is more of a developmental quarterback at this point.
"I'm excited about the competition we have," Wolford said. "We've got 29 practices before Penn State and we're going to try to get them into as many live situations as we can.
"We're gonna hold our QB to a very high standard here. And that means being leaders, working hard, doing things right and being accountable."