Scrappers to celebrate Luke Holko's recovery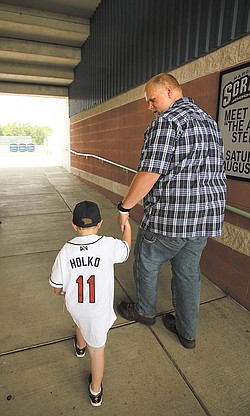 Photo
Luke Holko walks out with his dad Chad Holko at a Monday news conference announcing Luke Holko Day. Luke will be included in a team set of baseball cards given out during Sunday's Mahoning Valley Scrappers game.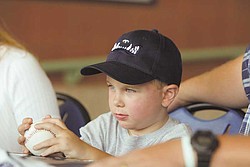 Photo
Luke Holko, 5, attends a news conference announcing a day in his honor. Luke Holko Day will be the theme of Sunday's Mahoning Valley Scrappers baseball game. Luke was injured by a foul ball at a game last September.
By ED RUNYAN
NILES
Luke Holko, the 5-year-old Greene Township boy badly injured by a foul ball at a Scrappers game Sept. 2, 2009, will throw the first pitch and run the bases at a Scrappers game Sunday.
Monday was the first time since the accident that Luke has appeared with his parents, Nicole and Chad, at a press conference — this one to celebrate his nearly complete recovery.
He sat quietly while Scrappers general manager Dave Smith explained that Luke has been signed to an honorary contract as a team member, will come early to meet the team and coaches, lead the seventh-inning stretch and run the bases after the game. The game is being called Luke Holko Night.
Half of the $5 ticket price for the 5:05 p.m. game against Aberdeen will go to the Luke Holko Fund when purchased by Friday at the Scrappers website (www.mvscrappers.com) or by telephone 330-505-0000.
The first 1,000 fans attending the game will receive a set of Scrappers baseball cards, including a Luke Holko card.
After the press conference, Luke tried on the No. 11 Holko jersey he'll wear Sunday — the number worn by his "buddy," Ben Carlson, the player whose foul ball struck Luke, Smith said.
The family has become close with Carlson, who now plays for the Lake County Pilots, another Indians farm team.
Luke was too shy to talk to reporters, but he walked into and out of the press conference, demonstrating that he's nearly 100 percent recovered.
"You wouldn't know other than a little wobbling or a little bit of slowness when he talks, but otherwise he's completely his old self again," said Nicole.
When Luke returned to Trumbull County for the first time Nov. 6 from hospitals in Akron and Cleveland, he could barely pick up his head and hadn't started talking. The injury damaged Luke's cerebellum, which controls movement, including that of the face, mouth and tongue, but caused no mental disability.
Luke, who turned five July 20, will begin preschool in the fall.
"He's doing great. He has some minor deficits, but God willing, he'll get over them. If not, we'll deal with them," said Chad Holko.
From a point of getting six hours of physical therapy daily in November, Luke is down to just one physical therapy session per month now, Nicole said.
Part of that is on purpose — doctors say he doesn't need as much physical therapy as before — and part of it has to do with cost, Nicole said.
"Therapy is not cheap, but it definitely got him where he's at," she said Monday. "So we'll continue to pay however much we have to, to get him better."
The Holkos' insurance paid for only about the first week's worth of physical therapy, so the family has had to foot the bill for the rest.
Money raised at the Scrappers game and by the Luke Holko Fund helps with those and other costs.
As for additional safety measures likely to take place at Eastwood Field, Smith said Scrappers management has talked about extending the safety netting to additional parts of the stadium, surveyed season ticket holders and researched studies done by other teams.
But for now the Scrappers have focused on making fans more aware of the danger of being hit by a baseball. Each of 4,000 cup holders now contains a warning.
Nicole and Smith both said they don't know yet whether the additional safety netting is the answer.
"I don't feel like we ever personally did anything wrong. We were watching very closely and intently, and I think it was just a freak thing that happened," she said.
"We're definitely more aware, but I don't think it's going to scare us away completely."