IN FOCUS: Wild about Wagon Trails
PHOTOS AND STORY
By LISA-ANN ISHIHARA
IN FOCUS: Wagon Trails Animal Park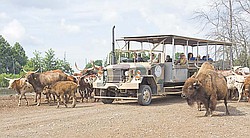 Gallery
IF YOU GO
907 Youngstown-Kingsville Road SE, Vienna, OH 44473
Adults: $14
Children 2 to 12: $10
Children under 2: free
Seniors older than 100: free
Group rates of 25 or more: Call 330-539-4494
VIENNA
It's not common to see zebras and other wild animals in Northeast Ohio.
But they have found a home at Wagon Trails Animal Park along state Route 193 (Belmont Avenue), next to Squaw Creek Country Club.
The Fleming and Bertok families have owned and operated the park since May 2000. They have found a niche for several exotic animals. The families live on the property.
The park operates from May 1 to Oct. 31, but the families care for the animals year-round. They average 240 tons of grain, 150 tons of hay and 1,000 gallons of water a year for 350 to 500 animals.
There may not be any lions or tigers, but, oh my, you can get up close with a wildebeest, camels, donkeys, water buffalo, bison, sika deer (Japanese), cattle, ostriches, antelope and more.
Don't forget a camera to document your own adventure to add to our Vindy.com photo gallery. You can submit them to photo@vindy.com, subject line "Wagon Trails."
Don't show up Tuesdays, however, because the park is closed. Wagon Trails also is fully accessible to people with disabilities.
The park's seventh annual Hayride and Apple Toss will be featured Saturdays and Sundays only starting Sept. 25 and running until the end of the 2010 season. You can take a hayride and toss some apples for the animals to eat.
Visit wagontrails.com for a money-saving coupon. For groups of 25 or more, call for rates.