Scrappers fail to hold lead against Crosscutters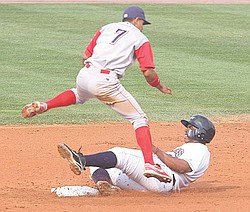 Photo
Williamsport's Ceasar Hernandez (7) leaps over Mahoning Valley's Jesus Aguilar as Aguilar tries to break up a double play during Sunday's game at Eastwood Field in Niles. The Scrappers lost their second game in as many nights to the Crosscutters, who won 5-3.
By Greg Gulas
NILES
Jeff Lanning had three hits including a game-tying solo shot in the sixth inning as the Williamsport Crosscutters defeated the Mahoning Valley Scrappers, 5-3, Sunday in New York-Penn League action at Eastwood Field.
"After striking out my first time up, I knew that I would have to concentrate more and bear down or it was going to be a long day for me," Lanning said.
"It was a 1-1 pitch and down in the strike zone so I just went after it, hoping to make contact," Lanning said. "When it got up in the airstream I felt like it had a chance and when I saw the outfielder going back, I just kept wishing it out."
Crosscutters manager Chris Truby was happy for Lanning, but happier that his team never gave up despite falling behind by three runs after two innings of play.
"We've struggled the first few innings all season long, but more so on the road," Truby said. "The key was our starting pitcher Ervis Manzanillo who settled down and kept the game close.
"As for Jeff [Lanning], he's a competitor with a good, live arm and he's swinging the bat really well right now," Truby said. "We have three catchers and as long as he continues to play like he is right now, he'll continue to earn more playing time."
The Scrappers (16-27) got on the board first in their half of the second inning when Chase Burnette doubled to open the frame, then scored when Jesus Aguilar followed with an RBI single.
With two outs in the inning, Carlos Moncrief's two-run homer to the opposite field, his fourth round tripper of the season, staked the Scrappers to the early 3-0 advantage.
"There have been many positives since our open date," Scrappers manager Travis Fryman said. "We're hitting better and getting good pitching so that tells me that we are headed in the right direction.
"Carlos [Moncrief] plays with intensity, has all of the tools it takes to be successful and has done really well since making the decision early in the season to go from pitcher to everyday player," Fryman said.
Back-to-back singles by Lanning and Jeff Cusick preceded Carlos Alonso's RBI double for the Crosscutters (26-17) in the fifth inning.
Cusick scored on Edgar Duran's ground out, cutting the Mahoning Valley margin to 3-2.
"As for starter Mike Rayl, he threw well except for one inning when it got away from him a little," Fryman said. "He definitely pitched well enough to earn the victory tonight."
Williamsport knotted the game at 3-all in the sixth on Lanning's team-leading fourth home run of the year, a solo shot that cleared the Eastwood Field second fence in left-center field.
The Crosscutters took a 4-3 lead in the seventh when Cesar Hernandez reached on a fielder's choice with two outs, stole second and scored on an infield hit by Matt McConnell and an error by Scrappers shortstop Kevin Fontanez.