Museum revisits Niles' days of yore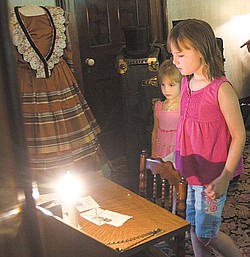 Photo
Megan, 3, and Meredith Blair, 8, of Mineral Ridge explore the upstairs master bedroom at the Ward-Thomas Museum during Heritage Day.
By ELISE McKEOWN SKOLNICK
NILES
Visitors to the Ward-Thomas Museum have a chance to see extra displays at the annual Heritage Day.
The house is open from 2 to 5 p.m. the first Sunday of every month, but once a year hours are extended, and the barn, the Westenfield Room and the gardens are open to the public.
"This is a good time to see the gardens in the summertime," said curator Audrey John at Sunday's Heritage Day.
The gravel paths lead to beds filled with blue salvia, threadleaf coreopsis, lamb's ear and other plants.
The Westenfield Room, a converted garage, holds various displays.
"We have different people bring in their displays, their personal collections," John said.
This year, the button collection of Barb James was on display, and Rich Muccio created caricatures for visitors.
Though James doesn't know how many buttons are in her collection, they filled tables on one side of the room.
"I just love them," she said. "There are millions of different buttons out there."
This is her third year participating in Heritage Day.
"It's a way to meet other people who like buttons or just to share a little bit of the history, because they really are a piece of history," she said.
The barn, among other things, had displays of old tools and samples of wood from all around the world.
Outside the barn, the Meek family portrayed an American family during the Civil War.
Five-year-old Mackenna wore a camp dress; Shydel, 10, was dressed to go to town; their mom, Janet, wore a dress for social gatherings; and their dad, Ken, was dressed as a soldier.
They were participating in Heritage Day to teach children the history of the Civil War and what it meant, Janet said.
The 14-room Ward-Thomas House, built in 1862, has more than 5,000 items on permanent display. On Heritage Day, quilting, knitting and crocheting demonstrations took place inside.
Stephanie Flanigan of Niles toured the house as a third-grade student but hasn't been back. She brought her kids — Emma, 7, and Kenny, 9 — to Heritage Day to share it with them.
"We came out to see a little bit of history," she said.
Kenny liked the bedrooms in the house the best.
"It's a really cool place," he said. "And I've never seen any place like this."
His sister enjoys playing with dolls, and her favorite exhibit was the dolls in the house.
Jackie Altobelli of Niles attended with her mother-in-law, Sheri Altobelli.
"It's nice to have, in a little town, so much history that you can come to a museum and kind of see what was here and how it was created and the people who made it," Jackie said. "It's very fulfilling. It really is."