Young pitcher leads Harding to win
By JIM FLICK
HOWLAND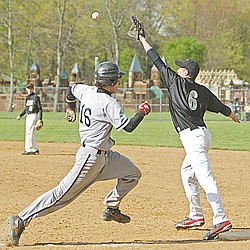 Photo
Howland's Nick Marino is out at fi rst as Harding's Will Frazier makes the catch in the second inning of Wednesday's game at Howland.
A sophomore pitcher making his first varsity start held Howland's baseball team scoreless for five innings Wednesday, as Warren Harding won 8-3.
Harding's Chris Turner pitched five strong innings for the Raiders (11-6), giving up just four singles and no runs.
Five Raiders drove in runs, lead by senior Chris Zadroski, who doubled to earn two RBIs. He also walked twice to score two runs.
But the key to the victory was Turner's performance on the mound, according to Harding coach Ed Shaker.
"He just kept them off-balance with his off-speed stuff," said Shaker. "That was the difference."
Turner retired the first two batters of the game, but then two Howland batters singled and Turner hit a batter to load the bases. A popup to center field ended the inning.
"After a shaky first inning, Chris settled in," Shaker said.
Over the next four innings, Turner gave up only two more singles while holding Howland (10-7) scoreless.
Turner denied he was nervous before his first varsity start. "Not really," he said. "I just got loose. It felt good to start for the varsity.
"I just thought about what was ahead, just thinking about pitching. And I got some good defense behind me."
The Raiders committed no errors against Howland.
"We hit the ball when we needed to and did some aggressive base-running," Shaker added.
"A sophomore making his first varsity start?" said Howland coach Rob Thompson. "He looked like Roger Clemens. He pitched a [heck] of a game.
"We were beat in the first inning," Thompson added. "The Harding aura again. We're a good ball team, and we need to play like it. We were flat, we made errors, we didn't make adjustments."
Howland committed three miscues in the game.
The Raiders scored two runs in the first inning without getting a hit, thanks to two walks and an error.
The Raiders struck for four more runs in the second inning. With two outs, Turner reached base on an error. After Zadroski walked, a single by Jay Rowland drove in Harding's third run. WGH then scored runs on Jordan Miller's single, Joe Sekula's double, and Kevin Preece's single.
The score remained unchanged until the seventh, when the Raiders added two runs on Zadroski's double.
Howland scored its runs in the seventh inning. After a pair of walks, Joey Aulizia singled home a run. Corey Hickman doubled and shortstop Cody Kirk singled to bring two more runs.